The tattoo festival ended with judging, awards, presentation of the winning tattoos and dancing by some of the notable tattooed people.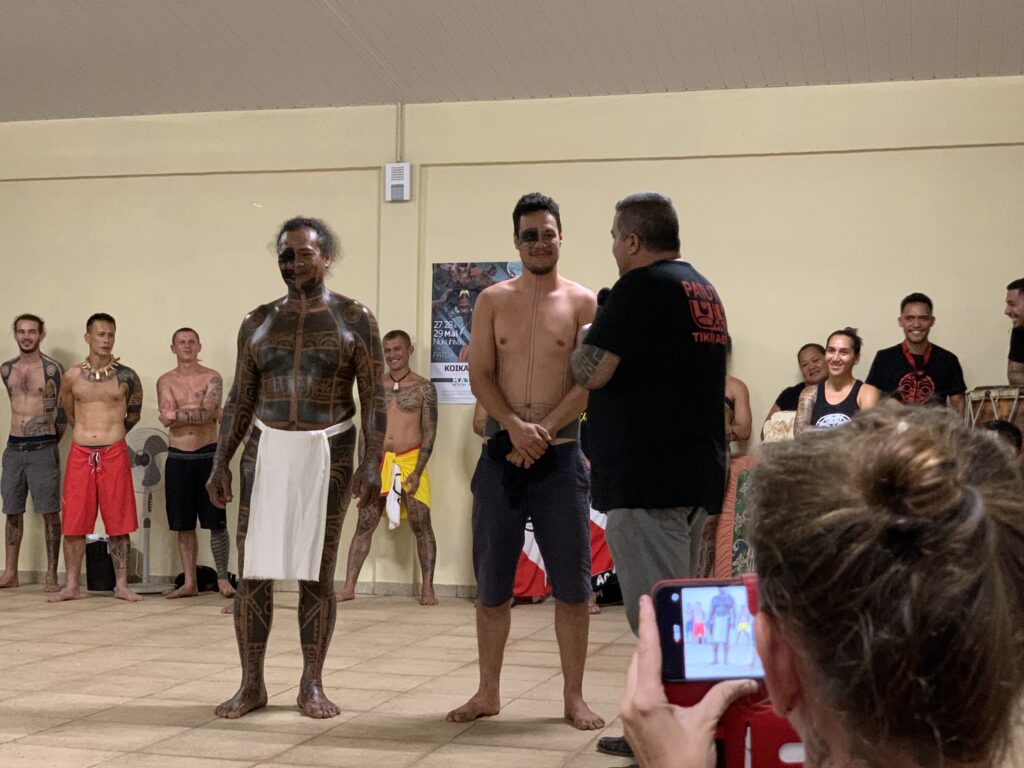 After that, Marshall and I busied ourselves with chores (such as changing the oil, getting cooking gas) and then took some time to go over to Daniel's Bay (Taioa). There, we hiked up to the waterfall and had lunch at Kua and Teiki's along with other cruisers, including Sarah and Bob from Rhapsody. (Kua and Teiki serve meals at their house in the village. They grow or catch most of what they use. They are both outgoing and Teiki especially has a big personality. He's very animated and can pose as a fierce warrior. We also got fruit from them.)
On Sunday afternoon, June 5, we went back over to Taiohae Bay. The next morning, we picked up a nice 4×4 rental car from Regina (our guide Mate's mother) and took a slow, scenic trip to the airport to pick up Dana and Johno.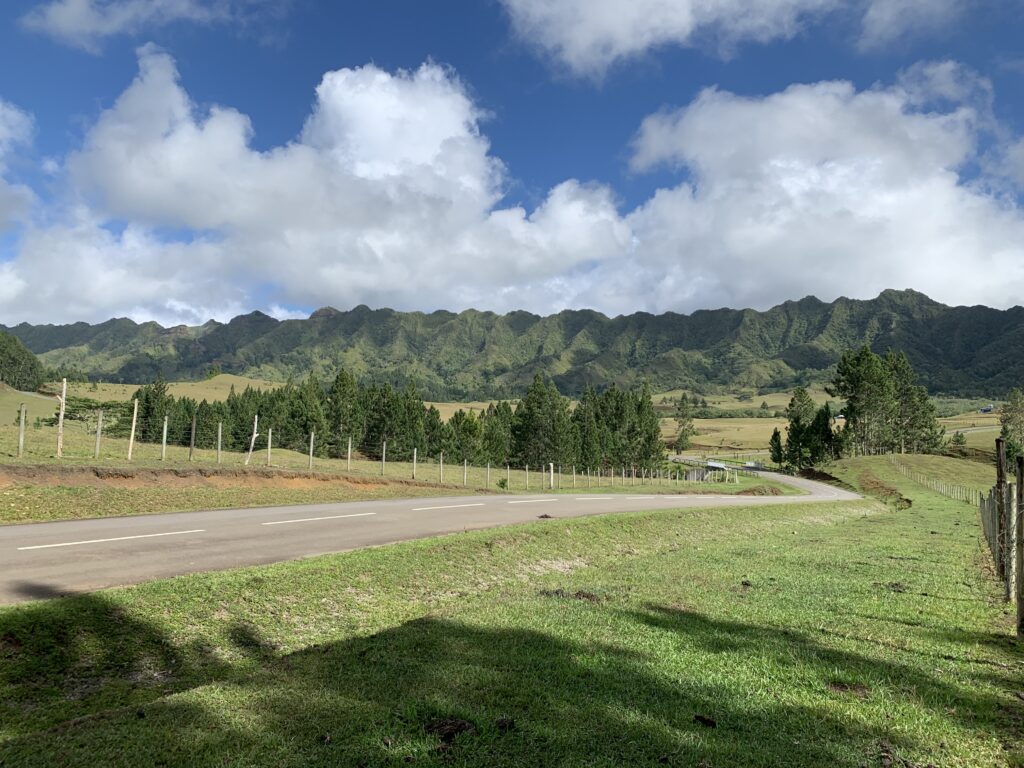 Their plane was early and their flights had been easy. We then drove back to Taiohae where we could get them a bite to eat and let them swim. The next day, we took the rental car on somewhat the same tour that we took with Mate, Taipivai and then over to Hatiheu. At the ruins near Hatiheu, there was a brief dance performance for the benefit of the Aranui passengers, who had come in that morning. Then we went to the Chez Yvonne restaurant and ate the same traditional Marquesan meal that was served to the Aranui passengers. During lunch, several local musicians played and sang.
After lunch we drove back to Taiohae and stopped at a couple of grocery stores to provision. It was perfect timing because the shelves had just been restocked with supplies from the Aranui.
Once provisioned, we left the next morning to go back to Daniel's Bay. We were the only boat in the anchorage that day and all night. Marshall and Johno fixed the propane tank fitting with parts that Dana and Johno had brought with them. They also put in the new transducer for speed/depth/temp so we now have accurate depth.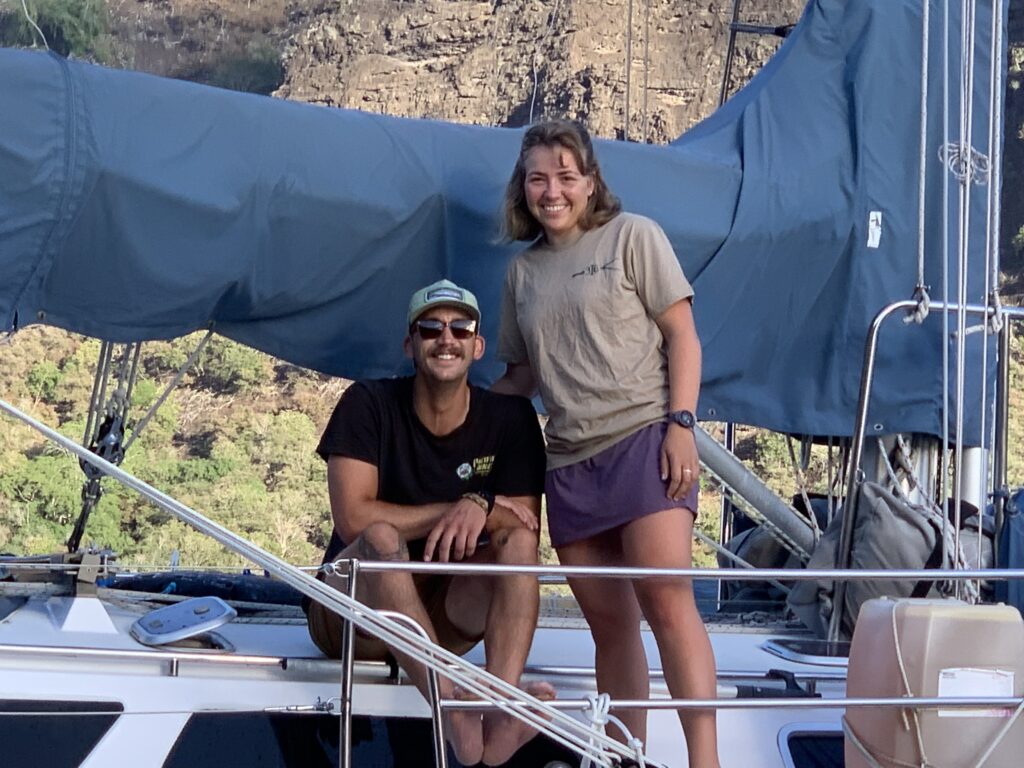 The next day, Thursday, Marshall, Dana and Johno hiked to the waterfall while I did some chores on the boat. I met them in the village for lunch at Kua and Teiki's.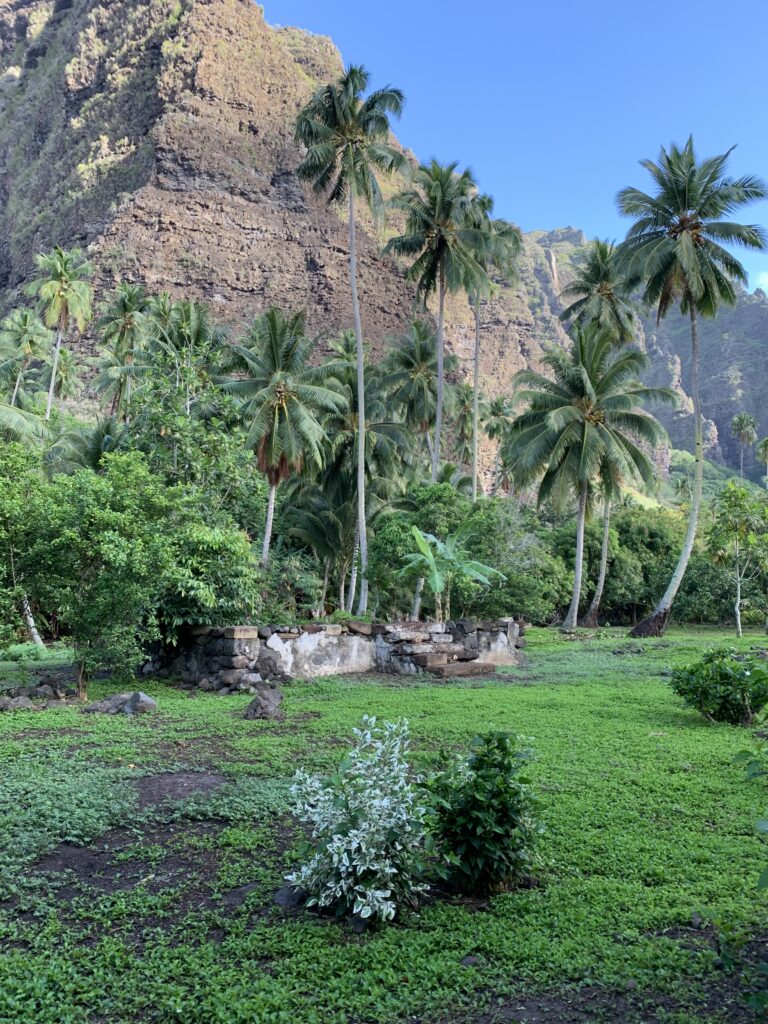 On Friday, Dana and I finished cleaning the boat bottom while Johno and Marshall fixed the disconnected wire that was preventing the motor kill switch from working. They first replaced the relay before discovering that it wasn't the problem. It was a head-scratcher so they tried a number of ideas before sorting out the problem, a wiring one.
We all then went snorkeling. I swam by Rala (UK) to chat with Ian and Laura. And I stopped by Tohora (New Zealand) to meet that family, which had recently arrived from Hiva Oa.
The next day, after a quiet morning in Daniel's Bay, we packed up our gear and headed back over to Taiohae to attend the evening gala and dance performance. It was kind of like a school recital. Evidently, there is a local dance school for women and girls that has been in operation for a couple of years and they now have five teachers. The performances were mostly by the students and teachers, with some guest appearances from other local dancers. We saw little girls, pre-teens, teens, young women and older women. All the dancing was special. The appreciative audience filled the hall, with lots of locals and expats, and kids happily running all over the room.