After arriving in Taiohae Bay on Nuku Hiva on May 5, we checked into the country, got laundry done, worked on some boat projects and familiarized ourselves with the town. Kevin Ellis of Nuku Hiva Yacht Services helped us with the checkin and made that very smooth. While hanging out at his office, we met and chatted with other new arrivals.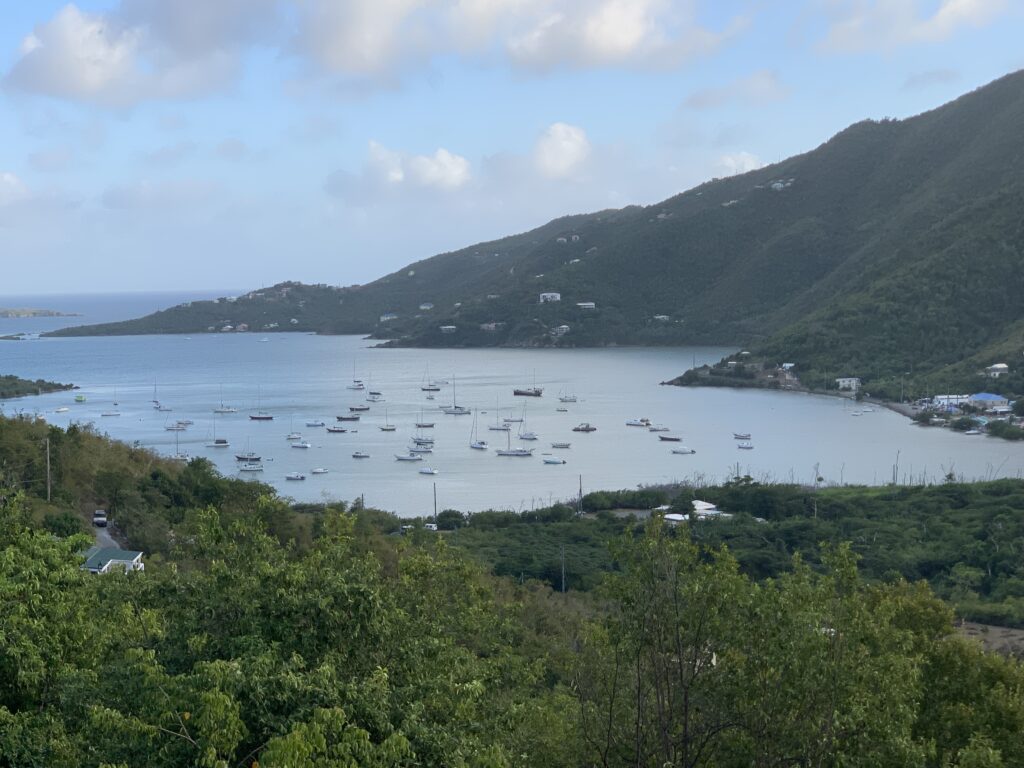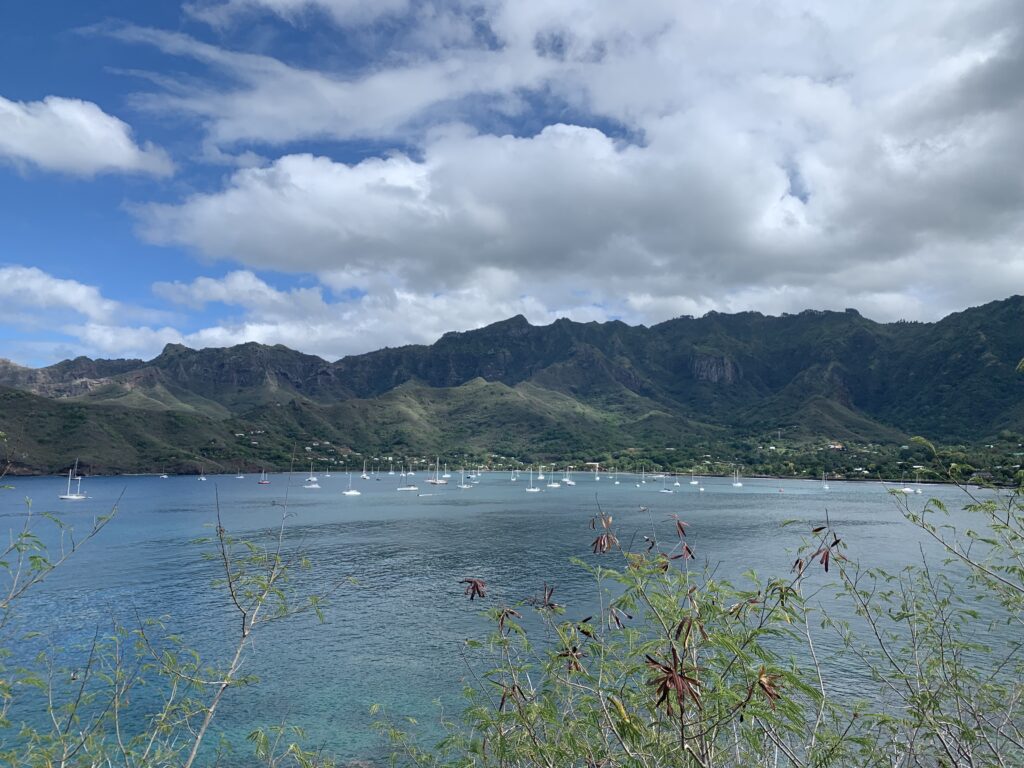 My sister Wendy then arrived on Tuesday, May 10. That same day I got my paperwork done for my carte du sejour (temporary residency) and we bought some provisions (after the supply boat arrived).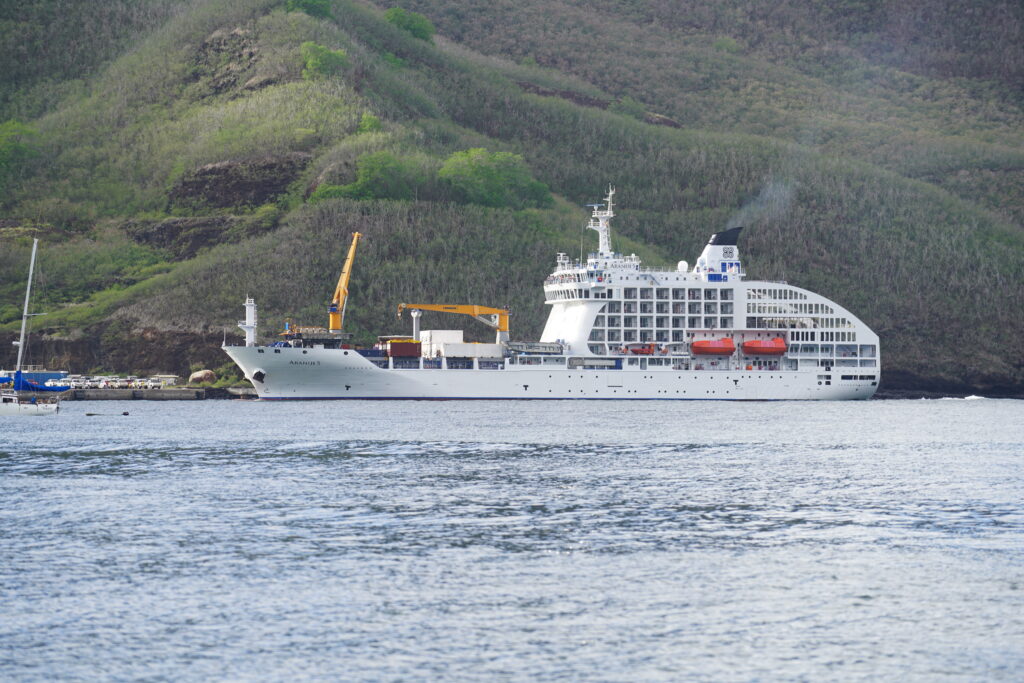 We pulled up anchor the next day and went around to the west side of the island, where we found a nice private anchorage with somewhat decent snorkeling.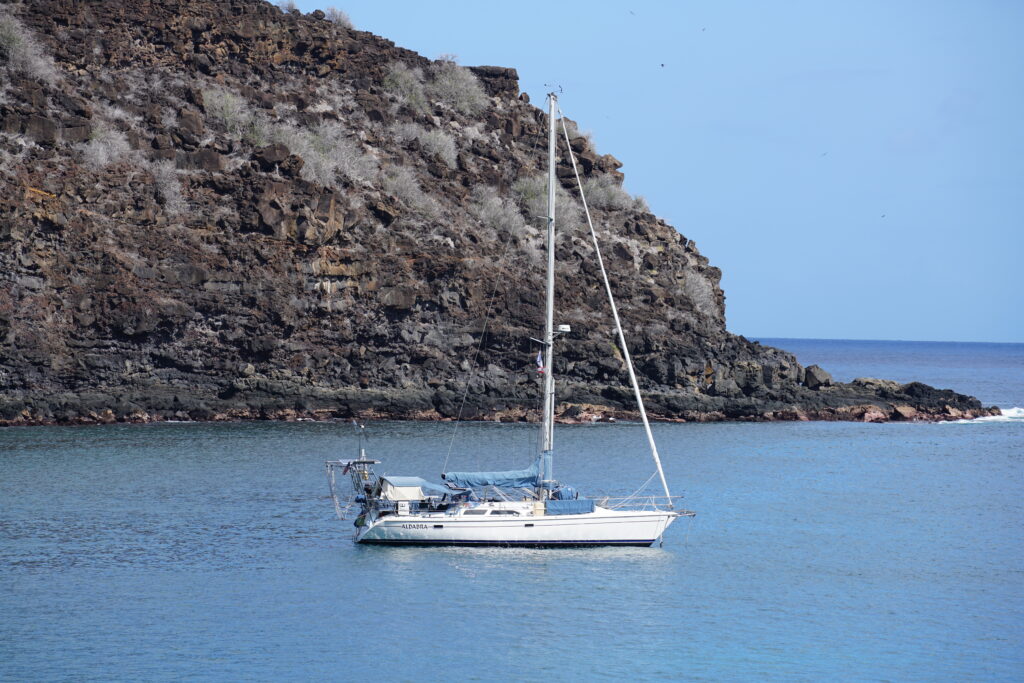 We hung out there for a few days and then rounded to the north side of the island, to a larger anchorage (still by ourselves) in front of a gorgeous view of tall mountains and a lush valley. We went ashore to meet the folks living there. They allowed us to walk about their property and they gave us breadfruit, apple cinnamon fruit, oranges, lemons and pamplemousse. The next day I baked brownies and Marshall and Wendy delivered them to the family onshore. I baked bread. And we continued to putter around with small projects while not snorkeling or reading.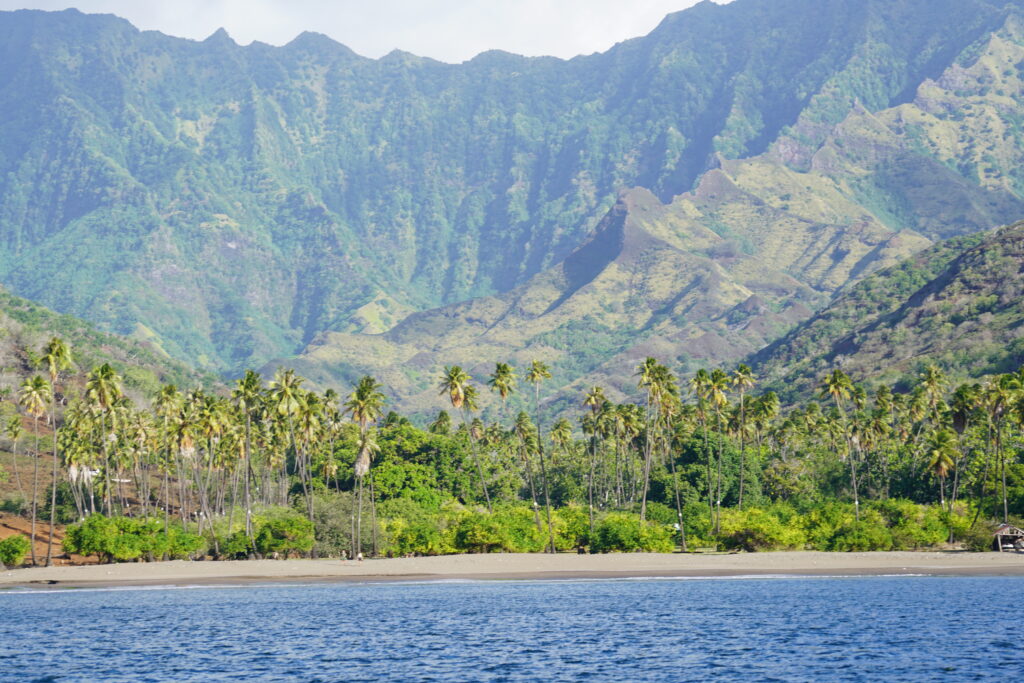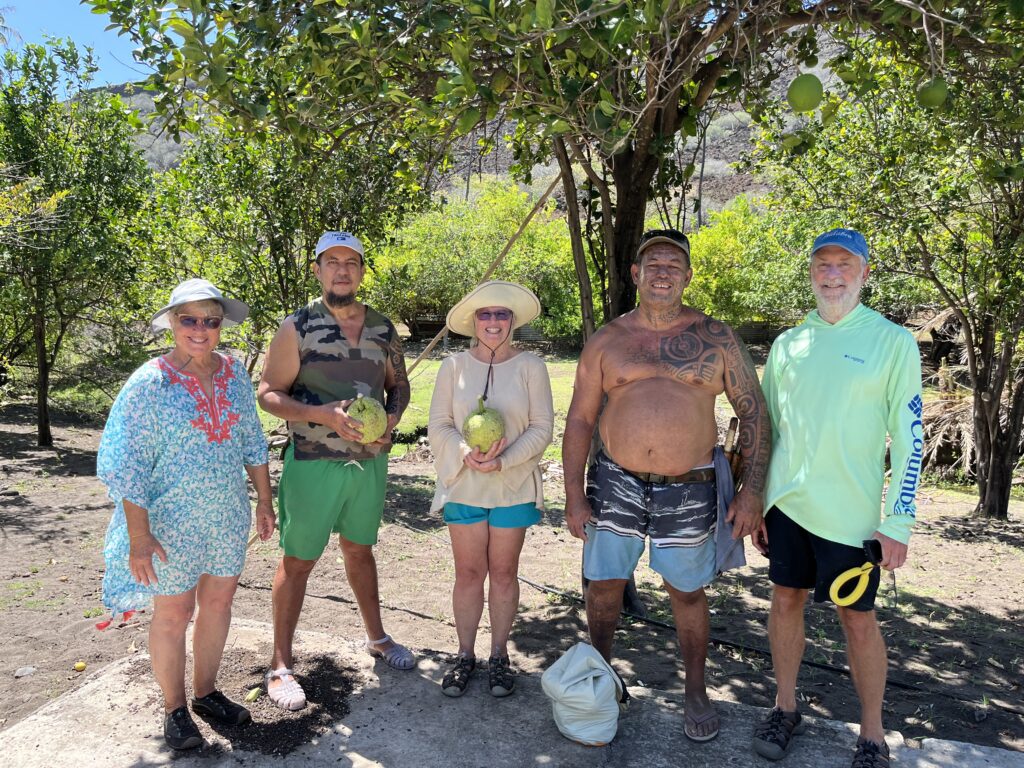 Our next anchorage was Anaho Bay, said by many to be the most beautiful anchorage in all of French Polynesia. It was more crowded than our other bays. There were about 13 boats when we arrived and it went down to eight while we were there. The first day we went ashore and asked Juliette whether we could come to her place for dinner. She said yes, so we went back to shore for a 6:30 p.m. dinner. I had poisson cru that was delicious.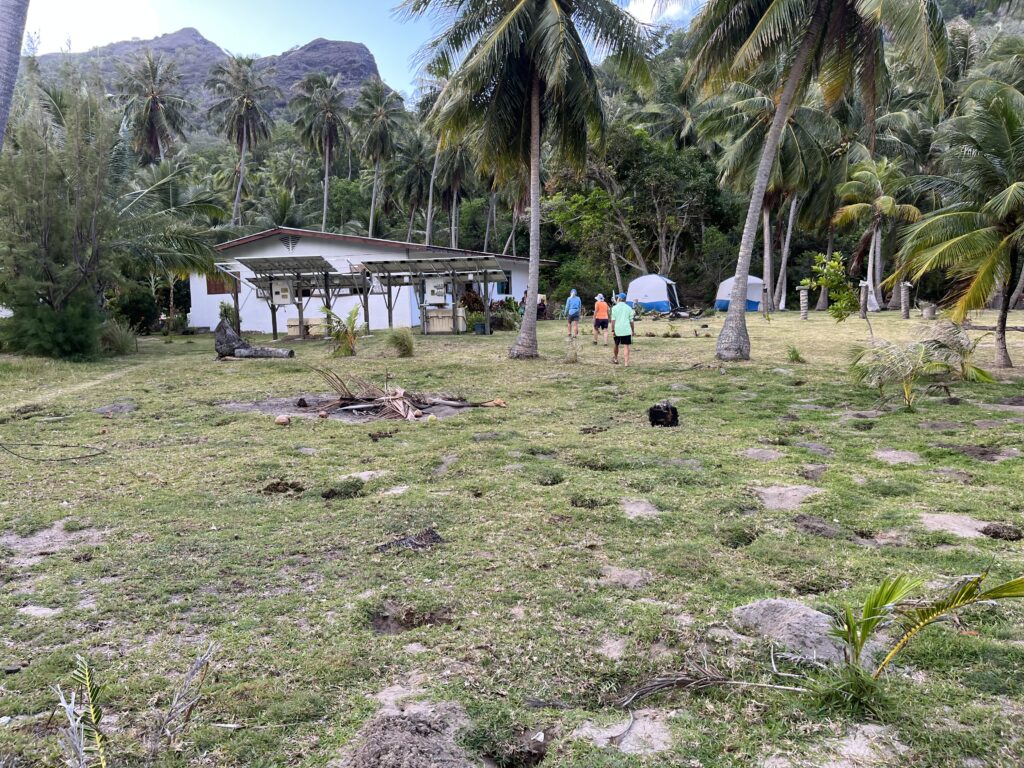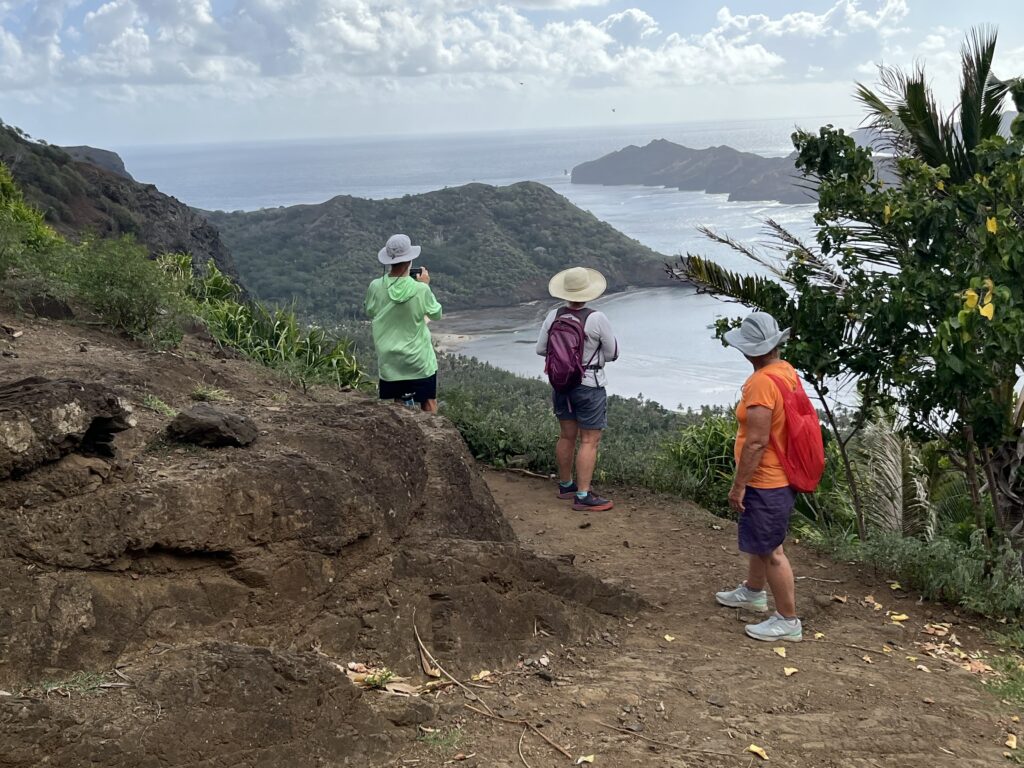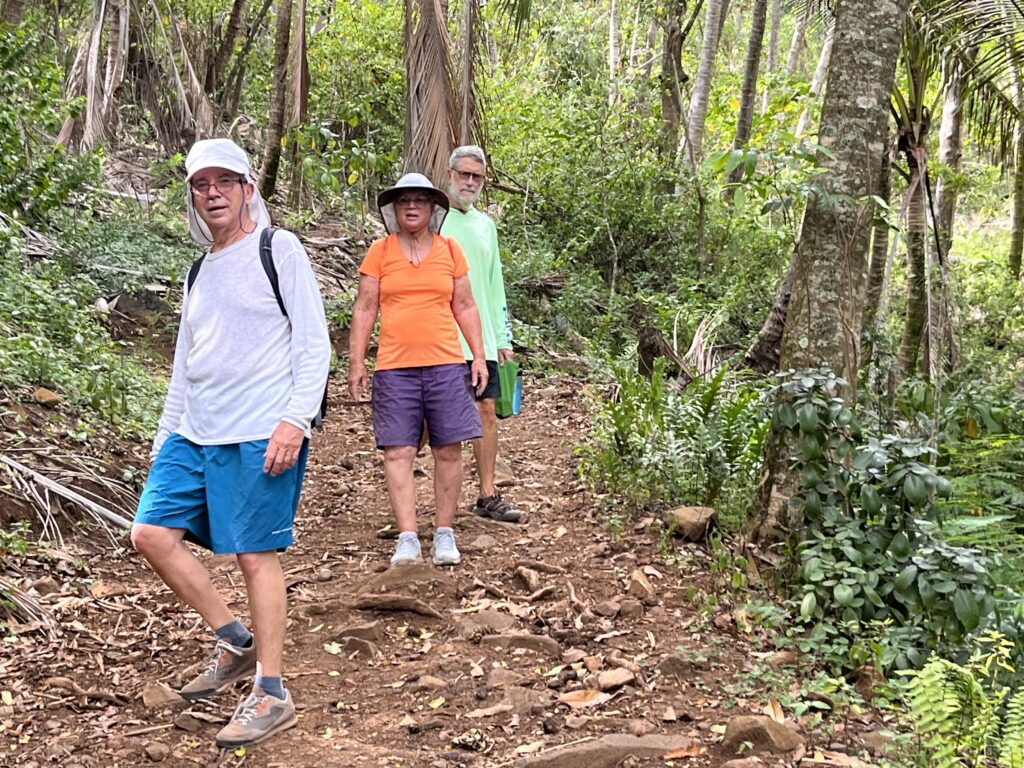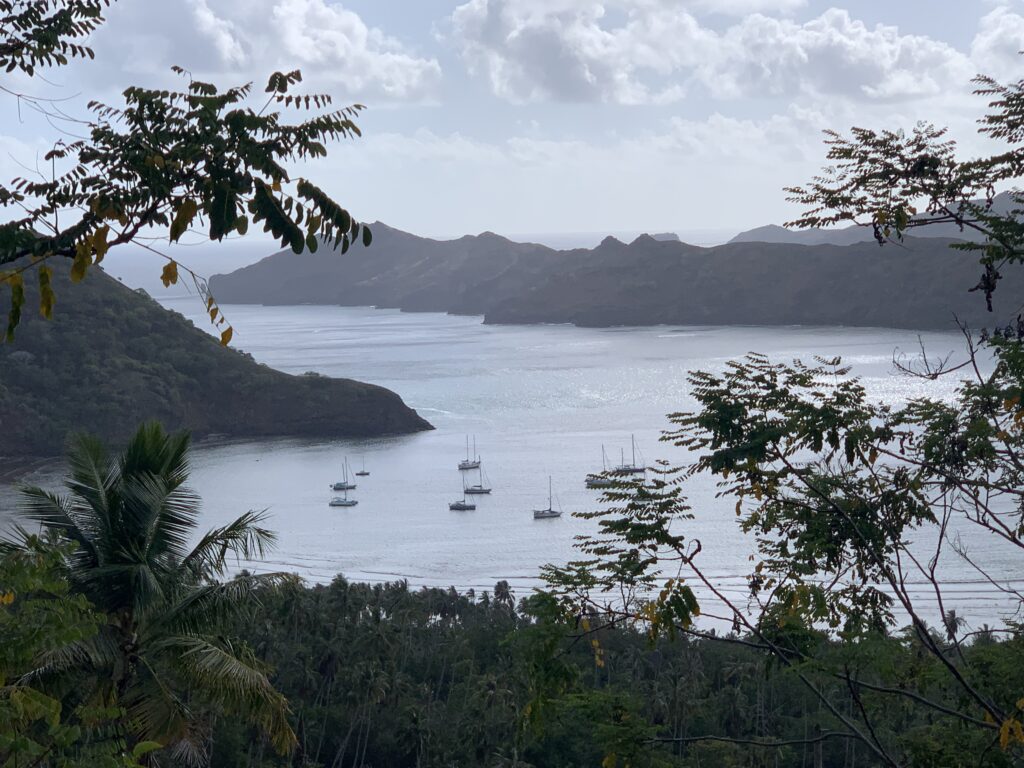 The next day we got up early and hiked over a pass to Hatiheu Bay. It took a couple of hours there and back but we saw all kinds of plants and birds that we needed to identify. On the other side, we walked around the town and got some ice cream. The town is quiet and gorgeous.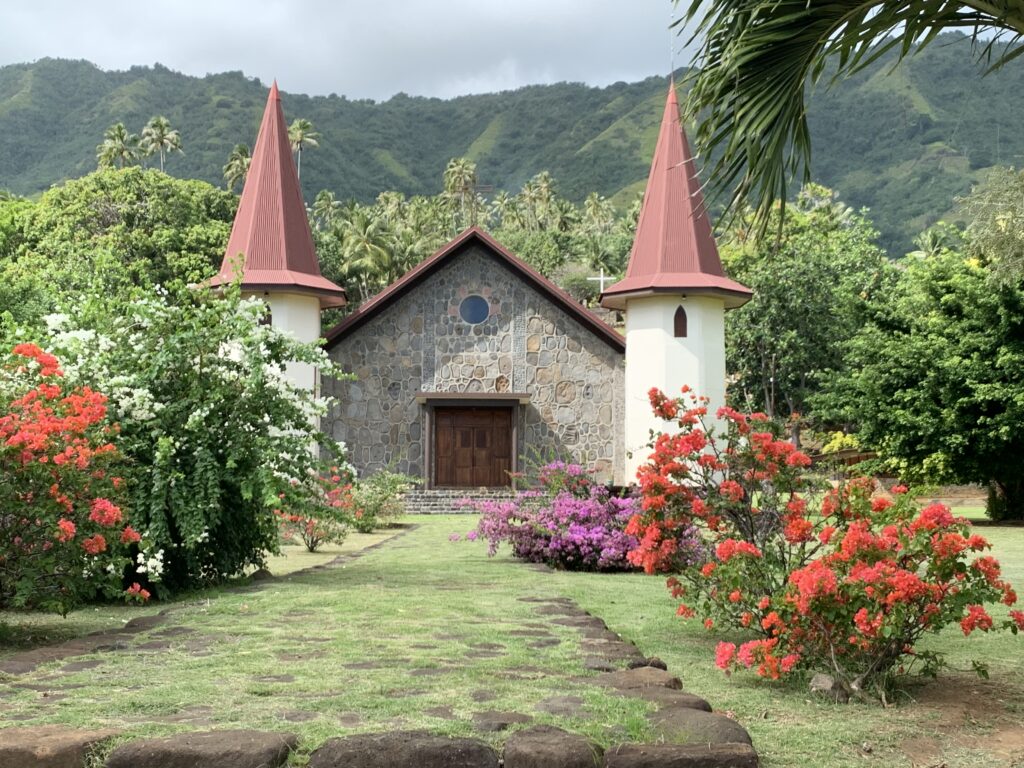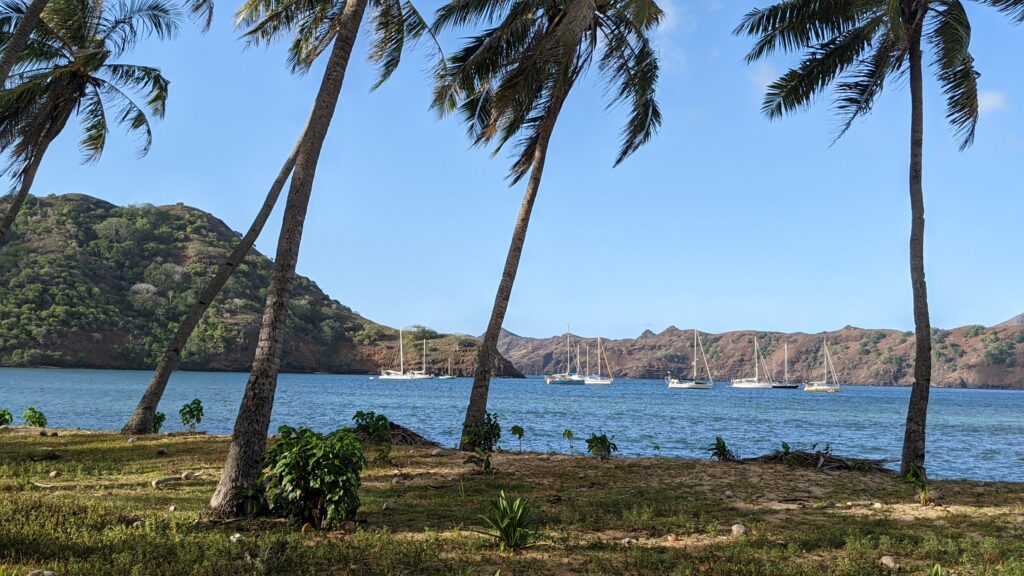 We left Anaho a couple days later and went back to Taiohae to do a bit of paperwork and arrange a land tour for Monday. We got everything done in Taiohae quickly and set out the next morning for Controleur Bay. The first couple of nights we we anchored in front of Taipivai, where Herman Melville stayed as a young man. We walked around the town and a very nice many named Vena gave us a stock of bananas.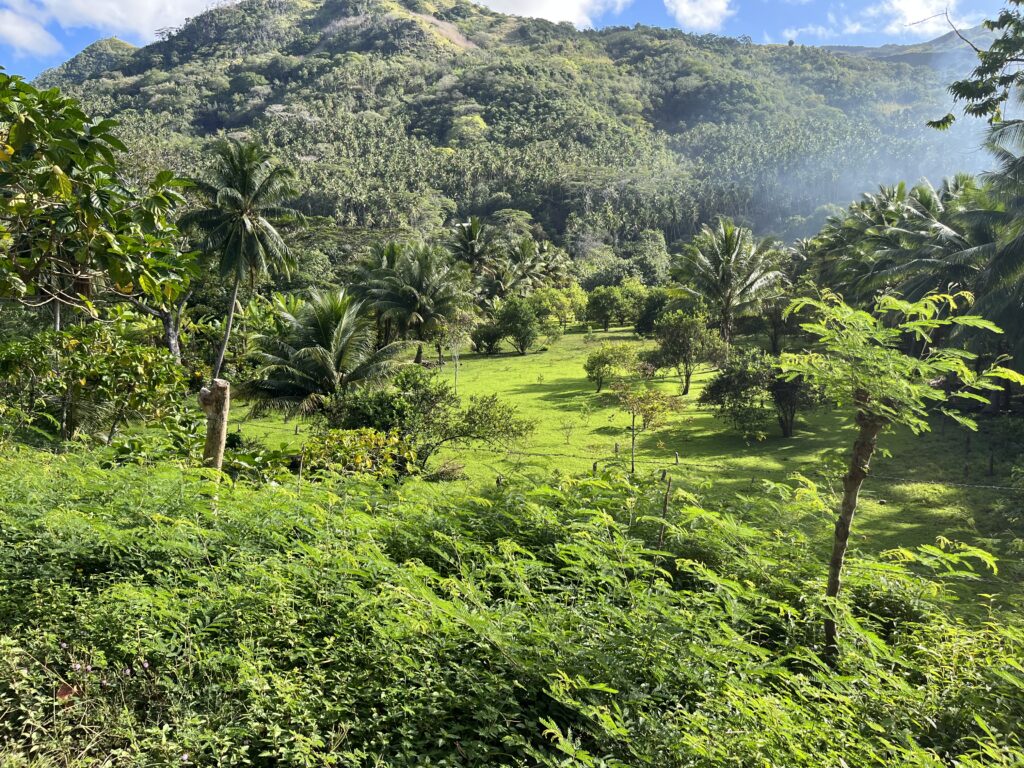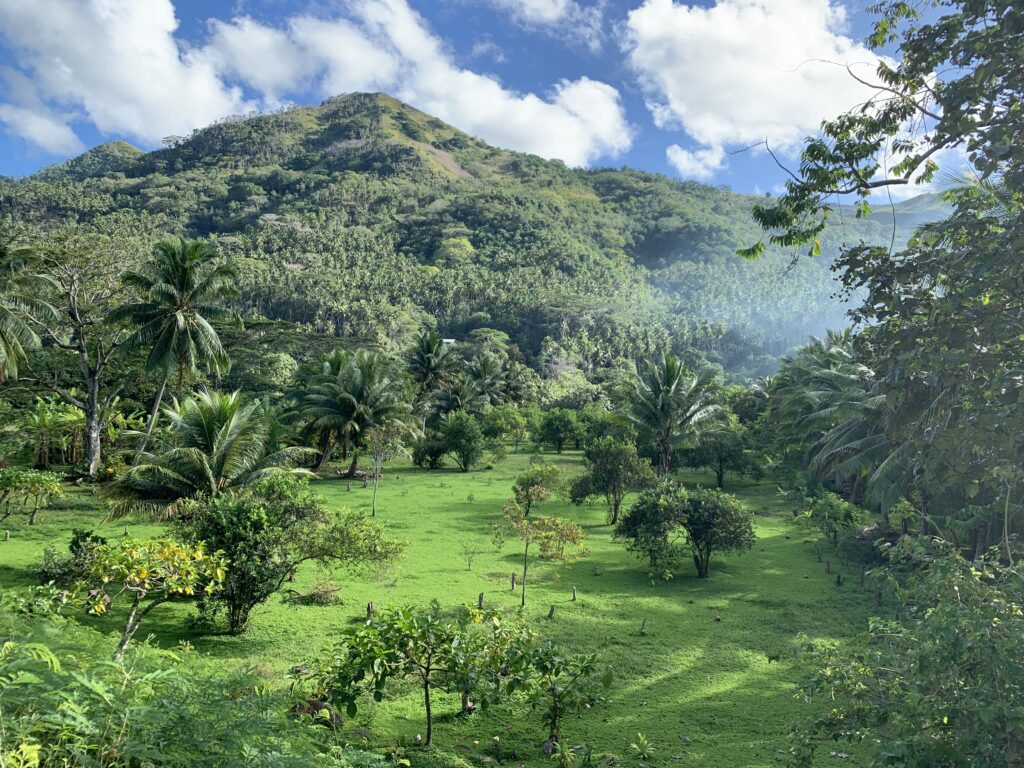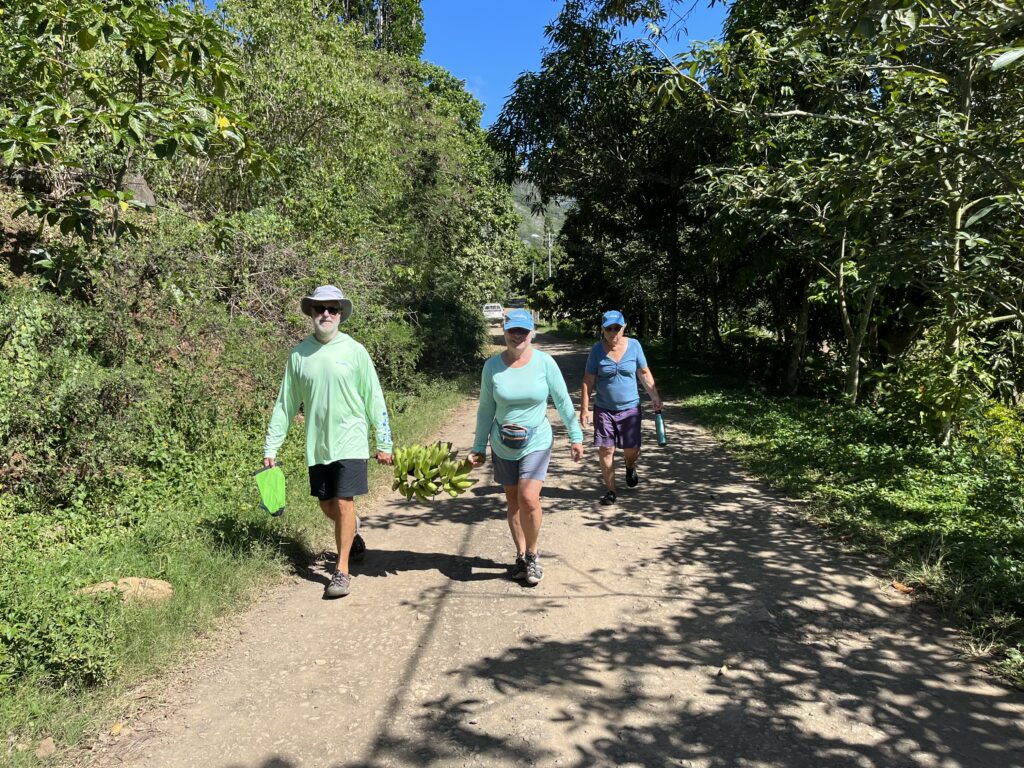 On our last day in the bay, we took the boat over to Hakapaa to find a trail to a waterfall, but we were unsuccessful. After hanging out for most of the day, we headed back to Taiohae in time to anchor before dark.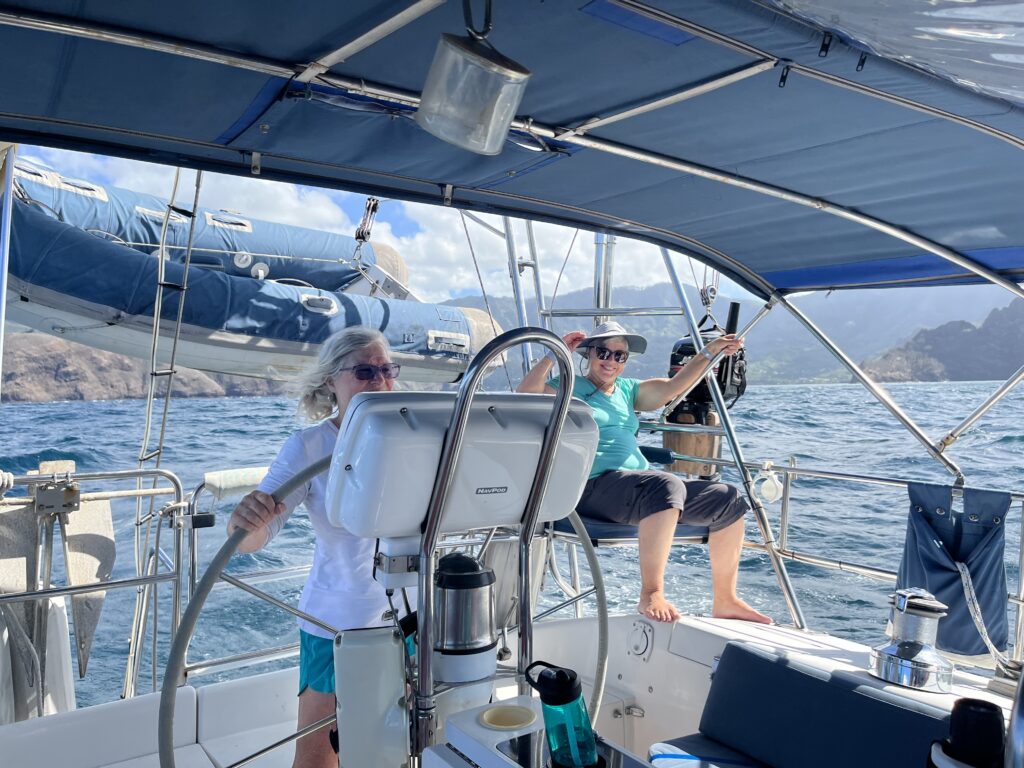 On Monday morning, we went to the gendarmerie to have Pat taken off the crew list for the boat. Then we went on an island tour with a great guide named Mate. We started by going up the mountain out of the bay and into the interior, which is rich and lush. The road led us back to Taipivai, where we visited an artisan center. From there we went back to Hatiheu where we toured the ruins of an old village and then had lunch in the town. I had poisson cru again because it's so good! We also drove west up the northern coast to see Aakapa Bay. The tour ended at the Hooumi valley in Controleur Bay. It was a great way to see parts of the island we wouldn't have seen by boat.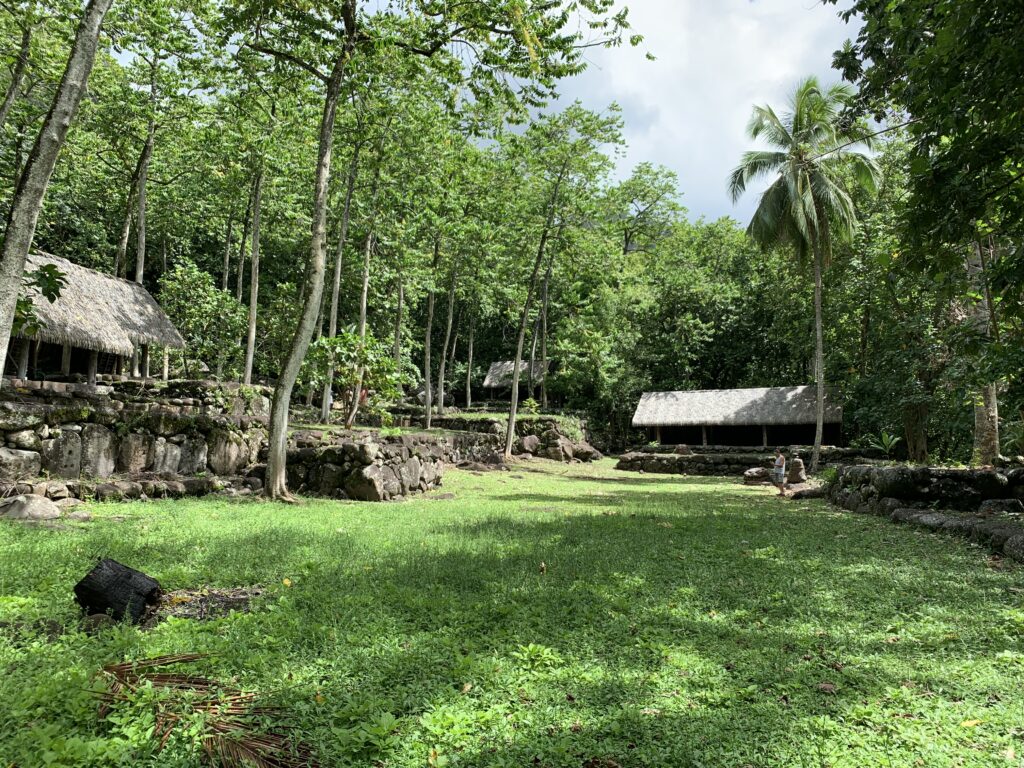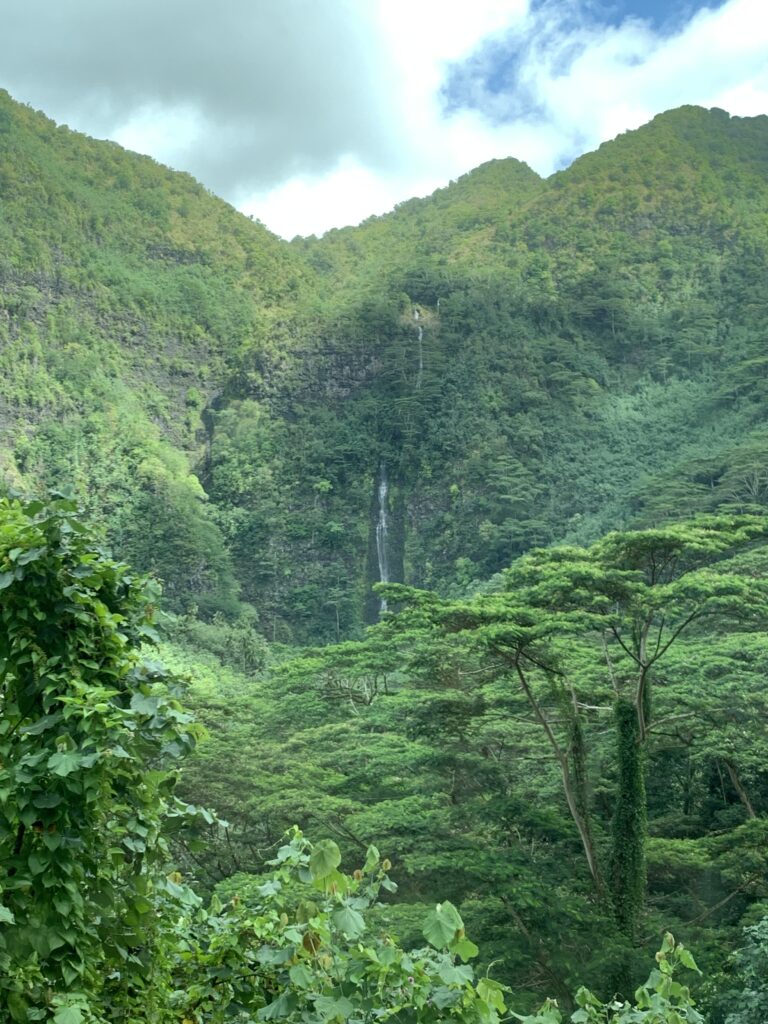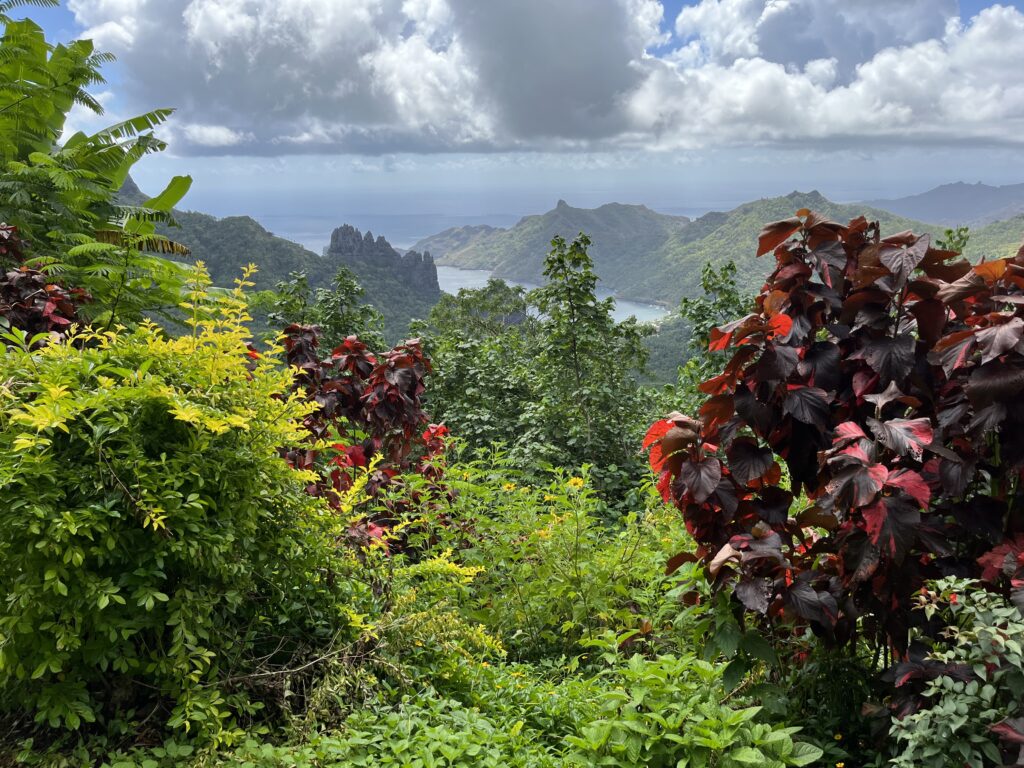 Wendy and Pat flew out the next morning and the supply boat came in. So Marshall and I walked around and scoped out grocery stores to visit the next morning, once the shelves were restocked. When we did go back, we stocked up on things we'll need once we leave Nuku Hiva.
We have a couple of weeks before our new crew, Dana and Johno arrive. So we're doing boat projects, doing laundry, cooking, getting fuel and provisioning.
Getting diesel and gasoline at the fuel dock was a bit of an accomplishment. You take the dinghy in surging seas over to a wall and climb up a ladder with your fuel cans. In our case, we made two runs with six cans each (120 liters of diesel and 20 liters of gas). After you fill your fuel cans at the gas station, you lower each one into the dinghy with a rope. The price was right because we had a duty-free certificate. And Pierre at the gas station helped us haul the cans to the dinghy and even into the dinghy.
Our reward for the fuel run was to attend a festival that was a celebration of the first graduating class of the Patutiki tatoo school. In addition to demonstrations of tatooing and carving and painting on tapa cloth, they showed a great documentary about the significance of Marquesan tatooing and then there was dancing, and it was amazing. We attended the next night as well. Spellbinding. I'll try to post a video eventually.