If you've followed Aldabra's journey through this blog, you'll have read about Dr. David Rose. He and his wife Susan crewed on Aldabra for the Baja Ha Ha in 2016. They also visited while I was in the Sea of Cortez. And David was headed to French Polynesia with us when we had to detour to San Diego. Susan was going to meet us in the Marquesas.
Because of the quarantine, I hadn't seen David since we arrived in San Diego in April. We spoke on the phone in July and closed the conversation with an expectation that he would come down to the boat at some point in the near future.
But that wasn't to be. David passed away unexpectedly in early August. David was a very close friend and has been my sailing partner for years. Every time I make certain improvements to the boat, I think about whether David would approve, even now.
Having David on the boat was alway reassuring to me. We had very complementary styles, underscored by trust and mutual respect. We developed strategies collaboratively and never argued. He loved to sail and he loved to tinker, with electronics and with anything he noticed that could be improved. David was very smart and very thoughtful. I always paid attention when he challenged my approach to something. And he was always a great partner when it came time for a repair. He was also great company for everyone on board, with his quiet humor and easy-going nature.
David's and my sailing partnership began in 1997. He had a small day sailor in the Santa Cruz harbor and he furthered his interest in sailing with an ASA course that prepared him to charter bigger boats. Shortly after he completed his course, he proposed that I join his family on a charter to the BVIs, and invited one of my nieces (Halley) along. She was between his two oldest kids in age.
We chartered a monohull and had a wonderful time. I think Halley was only about eleven years old at the time, and it was hard for her to be away from home. But Susan took Halley under her wing while David and I were probably quite occupied with the business of sailing the boat.
That began a tradition of chartering a sailboat in some part of the world every other year. There were a couple of times when I wasn't able to participate, but David and Susan and their kids (Jessica, Ben and Samantha) always got their charter trip in. I loved the preparatory meetings for the trips, the trips themselves, and the post-trip recap gatherings. And through those experiences, I grew close to the Rose family and was honored to participate in many of their family celebrations.
For the trip after the BVIs, David wanted to charter a catamaran. Neither of us had any experience with one, so we signed up for a two-day class at Club Nautique in Alameda. We would be learning on a PDQ, which was identical to a boat we planned to charter in the Bahamas.
We did learn about the differences between a monohull and a catamaran, so the class prepared us well for the charter. But the class also bonded us in a life-and-death experience. Due to a freak accident, our instructor was strangled by a jib sheet and lost consciousness. He wasn't breathing, and it was up to David to bring him back to life. As a surgeon, he certainly knew how to perform CPR in theory, but he didn't have any experience in a setting outside the OR and without competent staff to assist. But he did save the instructor's life. The whole emergency of keeping the guy alive, making our way back to the dock and working with the Coast Guard was a bit traumatic and very memorable. But it was not the last of Dr. Rose providing emergency medical assistance during a sailing trip.
Our uneventful catamaran charter in the Bahamas was followed four years later by a trip to Tonga. (The Rose family had chartered in Greece in the interim, but I had not been able to go.) In Tonga, we chartered two boats so we could include more of our friends. I brought my niece, Lizzie, along with two other families. There was also a third boat with our friend Pete and his family. It was strange not being on the same boat as the Rose family. But every day, David, Pete and I had skippers' meetings to plan our navigation for that day. And in the evenings the crews of all three boats gathered on one of the boats to party after dinner. Playing the card game Hearts figured prominently in the evenings' activities. And true to form, David responded when a local citizen put out a call on the radio for medical assistance. David met with him and provided consultation.
Two years later, we chartered in St. Vincent and the Grenadines, again on two separate boats. We had some of the same friends, and this time I brought my sister Ann and her daughters, Emily and Hannah. Our friends Vicki and Bruce and their son Griffin were now experienced crew, having been on the Tonga trip. And our friend Mark was also a repeat participant. The trip had lots of drama, including the effects of an approaching hurricane (that never really messed with us very much). And once again, there were medical emergencies that David needed to address. Beyond that, however, he became a casualty himself, with a couple of broken ribs. Fortunately, his daughter Jessica, who went on to become a doctor, was able to help David out.
The next trip was to Croatia. This time we chartered one boat, a 50-ft monohull. The trip included the Rose family, their good friend Karen and my nieces Rachel and Julia. It was fun to have everyone together on the same boat, but it was a very different kind of trip. Rather than sailing among remote tropical islands, we were in civilization. It involved dressing up to go to restaurants and even a visit to an exclusive night club. Uncharacteristically, we had no medical emergencies that I can recall.
Next, we chartered in Belize. This time David and I each captained a catamaran and out friend Mark captained a monohull. My boat included Vicki and Bruce and Griffin along with Marty and Katie and Gabe, who had been on the Tonga trip.
Two years later, the Roses chartered in New Zealand and I was not able to go. So our next trip together was a return to the BVIs. We had three boats. The Rose party was on one boat. My boat included my mother, my friends Pete and Cookie and my friends Jim and Linda and their twins, Dana and Trevor. The third boat included Mark's brother and family and mother. We all joined together for a Thanksgiving dinner at a restaurant on shore. The only medical emergency I remember from that trip was Pete's excruciatingly painful toothache, which David successfully treated with antibiotics.
Our final charter trip together was in 2015 out of Raiatea in the Society Islands. We were on one catamaran together, with my sister Wendy and her husband Pat, David and Susan, Karen and Jessica. We sailed around Raiatea, Huahine, Taha'a and Bora Bora. We bought pearls at a pearl farm and had a great time snorkeling, especially through one pass between two islands that swept us rapidly through narrow channels with coral heads everywhere. After we dropped off the boat, we stayed a few days in Tahiti, visiting the market in Papeete and touring the island in a rental car.
I found out a bit after we returned that David had contracted Dengue fever while we were there and suffered multiple complications from it. It was very much on our minds as we planned the trip to the Marquesas, because it was imperative for him to avoid getting it again.
David, Susan, Wendy and Pat were all on the Baja Ha Ha trip the next year, on Aldabra, where David once again came to the rescue, this time for a sailor who had dislocated his shoulder.
As I anticipate the possibility that Aldabra may get to leave for French Polynesia in 2021, it's hard to imagine the voyage without David. I hope Susan will still want to join us in the Marquesas. And I hope that sometime in the not-too-distant future, we'll get the chartering gang back for another catamaran trip in David's honor.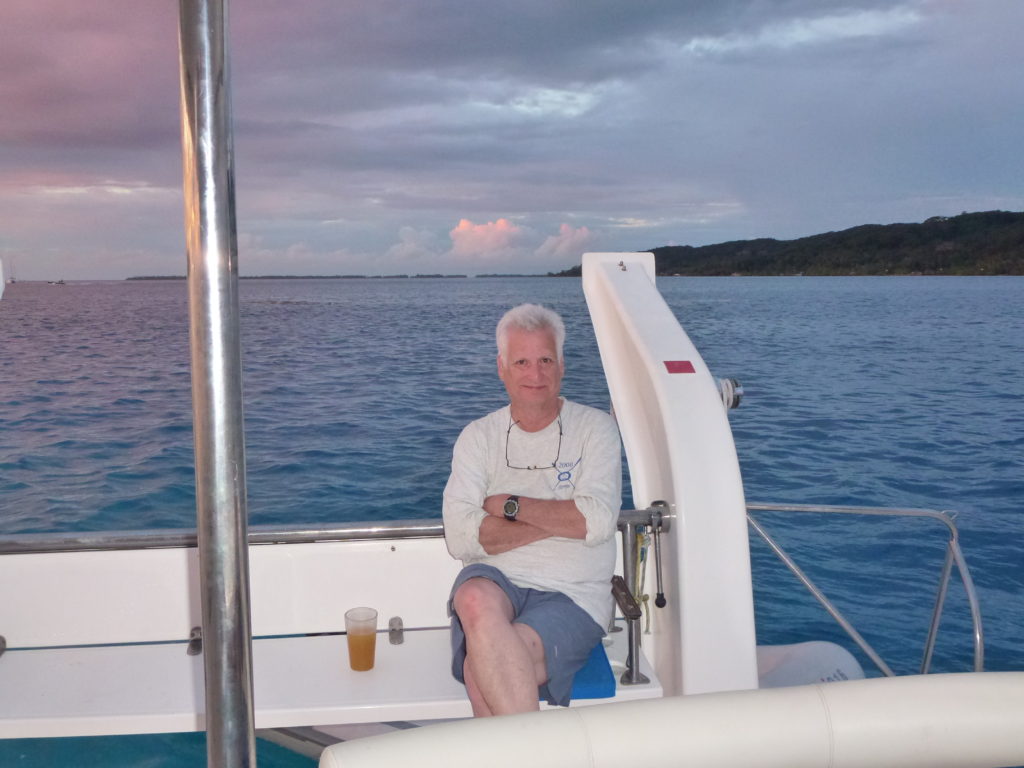 David somewhere in the Society Islands