It's Friday, April 3rd, 2020. I'm sitting inside the salon of Aldabra while a chilling wind is howling outside. It's midday and we're anchored in Bahia Asuncion, halfway up the Pacific side of the Baja Peninsula.
All four of us (David, Pat, Dana and I), just treated ourselves to indoor showers, our first since Sunday night and our last until we arrive in San Diego, possibly on Thursday of next week.
We're in this bay waiting out a weather system, which should last through Saturday. After that, we'll probably need a day for the seas to settle a bit before proceeding north. But the weather forecast keeps changing, so we'll see how it goes.
We're hunkered down in this bay with Jane and Jerry on Shamaal and Rich and Sharon on Bumblebee. Fortunately the water is pretty flat in the bay so we're comfortable in spite of the cold wind. We've all filled up our fuel tanks, thanks to the help from locals, so we're ready to go when the time is right.
I'm sure you're wondering why a boat headed for the South Pacific ended up here. But maybe that's obvious. Everything has changed for people all over the world with the threat of the Coronavirus. In our case, an hour before casting off our dock lines to leave Nuevo Vallarta in Banderas Bay Mexico, the port captain notified us that we were no longer cleared to leave Mexico for French Polynesia. In fact, we learned shortly afterward that we couldn't even be cleared to leave Mexico for Hawaii. Our options at the time were to stay put, sail around in Mexican waters or clear out of the country in Ensenada.
After all the preparation to sail to the South Pacific, and the anticipation, this was a huge shock. It was hard to react rationally. Plus, information was changing faster than we could process it. I don't know how severe the global crisis brought on by the Coronavirus will be when I finally have enough Internet access to post this blog entry, but I'm sure millions of people are suffering more than we are. So this story may sound like the sniveling and whining of four people whose plans had to change. After all, we're not suffering financially the way many people in Mexico and all over the world are suffering because their livelihoods have disappeared. And we're not cooped up in self-isolation in an apartment somewhere. We're healthy, out on the water, and pretty far away from exposure to the virus, at least for now.
It's easy to look at our situation now and feel grateful. But I'm going to tell you our story because this blog is about sailing on Aldabra. As readers of this blog know, the story for the last several months has been about getting the boat ready and getting the crew and myself prepared. I thought everything was going pretty well. In fact, up until the moment we were denied departure, I was amazingly calm and unstressed. But that hadn't always been the case in the last couple of months leading up to untying the dock lines.
The stress started when I applied for a long-stay visa for French Polynesia. I left Mexico by car and drove north to San Francisco, handing my passport and a stack of paperwork over to the agency that processes visas for France. It was December 23rd. I then drove back south to San Diego to enjoy the holidays with my family, which I very happily did.
In late January it was time to fly back to Mexico to continue preparing for the South Pacific voyage. But the French Consulate in Washington D.C. remained in possession of my passport. And the representing agency could not provide me with any information about when I would receive it. It had been five weeks. With a few days remaining before my flight to Mexico, I needed to sell my car and get a new passport. While selling the car first appeared to be a challenge, I figured that out and sold it in one morning. Then I turned my attention to online resources for getting a second passport in 24 hours.
After paying an online service, I discovered that I could not get a second passport without either having the first one in hand or declaring it lost or stolen. I didn't want the original to be invalidated because if I ever did get it back from the French, it would have my long-stay visa in it. (The long-stay visa allows one to stay in French Polynesia for a year or more, as opposed to 90 days, which would require one to rush through the island groups.)
The online agency advised me to contact the U.S. State Department. Miraculously, that agency was able to get me an early morning appointment the next day at the passport office in San Diego (I hadn't realized that one existed) to receive a second passport by the end of the day. (This was Friday morning and my flight was scheduled for Monday.)
Granting a second passport is not something our government does without consideration. At the office, I had to answer a lot of questions in writing. Why couldn't I just stay in San Diego until I received my passport back? Why did I need to go to Mexico? Why did the French have my passport in the first place? How was I going to get the passport if I went in Mexico? I also had to run down the street to have new passport photos taken because the photo on the new passport could not match the photo on the original passport. By the end of the day, however, I had a second passport in hand, good only for four years instead of the usual ten years. I could use either passport for international travel as long as I didn't present both at the same time.
That solved, I caught my flight back to Puerto Vallarta. But the passport was still a constant concern. I waited six more weeks and still no word on the status of the passport and visa. I contacted the agency for the visas and received conflicting answers about whether the passport could be tracked. I contacted the French Consulate and received a vague response. I even enlisted my congressman's office to help me.
As my departure date approached, I began re-planning my voyage with the new assumption that I could be in French Polynesia for only 90 days. If I arrived in French Polynesia in mid-April, I would need to leave the country by mid-July. I needed to figure out where to go and to line up crew for that because the crew that planned to be with me would be remaining in French Polynesia.
After spending a full day on that exercise, I got a notification that my passport and visa were on the way to my mom's house in San Diego. My brother-in-law Pat could bring it with him when he arrived in March. I was relieved and a bit elated.
Another bureaucratic wrinkle surfaced about the same time. My insurance agent, who had assured me that I would be covered in the South Pacific, notified me that his company would not be insuring me. He gave me the name of another company and I proceeded to work with that one. But time was running out and that new company was swamped with applicants because cancellations for vessels have become rampant since the hurricane disasters of recent years.
When the new insurance agent finally came back with a quote, the proviso was that I needed an out-of-water survey, a rigging inspection and a storm plan. At first, with the haul-out survey out of the question, I resolved to forego insurance. But after thinking about it overnight, I called back with a proposal. What if I had a very thorough in-water survey with proof of what was done during my last haul-out in the spring? That was potentially acceptable to the company, so I contacted a surveyor who could work with me right away.
We spent half a day going over the boat and I provided him with a document that listed every modification I had made to the boat. He did the survey quickly and I sent it to the insurance company. They accepted it so I just needed to pay them. (That was a day before departure. Instead of paying them the next day, I called to let them know that I wouldn't need the coverage after all.) So the survey fire drill was not really needed, although it might be useful down the line.
In the last couple of weeks before departure I also made other "perishable" investments in time and money. I made one-year commitments to subscriptions such as backup South Pacific charts from Navionics for my iPad and Predictwind Offshore Professional. I paid the agents in Tahiti for assistance with clearing into the country and paid the Nuevo Vallarta port captain for clearing out of the country. I paid an agent to ship CO2 cartridges overland to Mexico because they couldn't be brought in by air. I purchased an extensive supply of medications for the journey, all with expiration dates of one year or less. I also bought a huge supply of food provisions. I purchased airline tickets for one of my crew members to fly back to the U.S. in June. And I worked with other boats to plan processes for communicating while we were underway.
Another extensive time investment, which I would not consider to be perishable or a waste of time, was attending perhaps three dozen seminars on all kinds of topics related to the journey. Many experts generously gave their time to educate the South Pacific-bound fleet on medical and dental emergencies, weather, route strategies, storm and emergency tactics, safety, provisioning and other helpful tips.
The flurry of activity intensified my anticipation, my confidence in my preparation and my certainty that this trip was imminent. The progress of the Coronavirus was in the news, but my crew and I just thought we could get out on the water and escape. David arrived in Puerto Vallarta on March 12th. Dana arrived on March 14th. We were worried that Pat would be prevented from joining us, but he arrived without incident on a nearly empty flight on March 18th. We went to the store for final provisioning of fruits and vegetables and then joined some cruiser friends that evening for a very sweet farewell gathering. All we needed to do was get up in the morning and take off as soon as the port captain and the customs and immigration officials met us at the boat at 11:00.
In our first stage of grief after we found out that French Polynesia was closed to us, we resolved to go to Hawaii. After a couple of hours of planning and communicating with our families, I went to see about being cleared out of the country only to find out, of course, that it would not be possible.
Around the same time, we started hearing that the U.S. border might close. Pat grew concerned because he eventually needed to get back to work. He couldn't stay in Mexico indefinitely. And David didn't want to abandon his wife indefinitely. I didn't want to stay in the marina any longer. I had been there only to prepare for the journey and I wasn't emotionally prepared to sit on the boat indefinitely. I had a crew ready and willing to sail, just so long as they weren't prevented from repatriating to the U.S. So why not sail north to San Diego? None of us had ever done the notorious Baja Bash. I had never wanted or planned to do it. But now it seemed like a good idea. We would be out on the water and we could deliver Pat and David back to the U.S. They weren't ready to give up on a sailing trip.
We didn't really think about the fact that I had taken all my Baja navigation information back to California, or that it would get colder as we went north, and we didn't have warm clothes and sleeping bags. We just decided to go. And coincidently my friends on Shamaal were on their way north and invited us to join them.
So on Friday, March 20th, we cleared out of the port of Nuevo Vallarta and headed for Punta de Mita to wait for favorable weather to cross over to the lower tip of Baja. We stayed at anchor for a couple of days and set sail on Sunday morning. We sailed the first day under pretty decent conditions and then motor sailed for two more days under slightly more uncomfortable conditions in the form of big swells.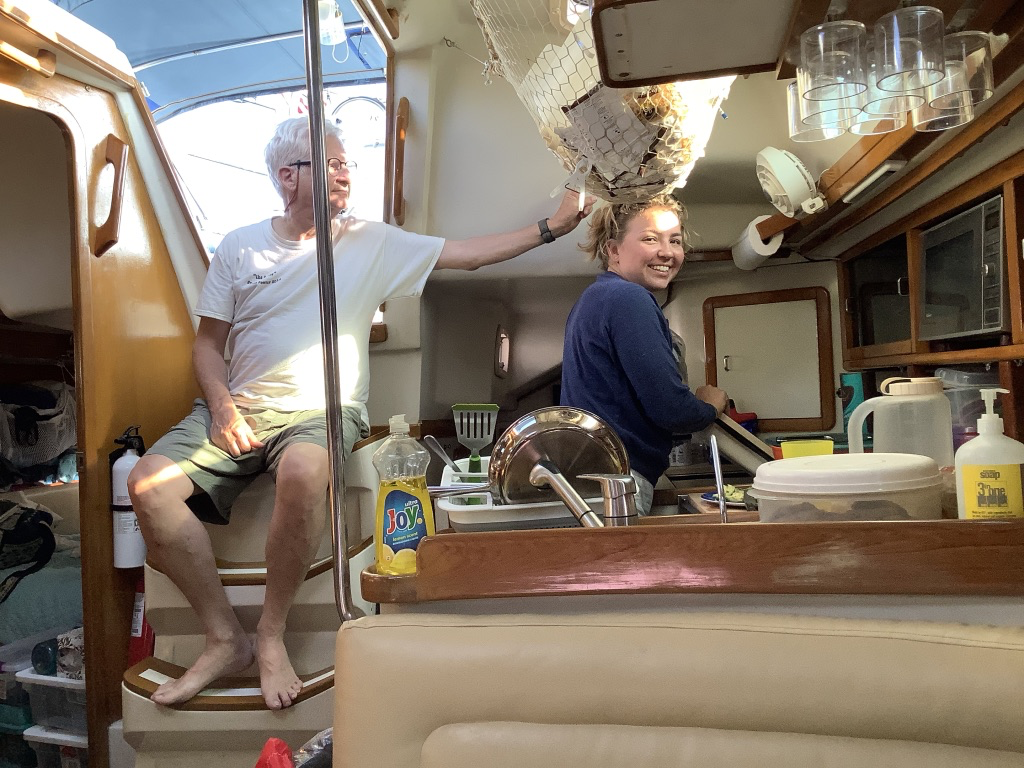 At one point we had a bit of drama. I wanted to slow the boat down and turn into the wind to change the location of the jib cars. The jib sheets were causing a strain on a couple of stanchions. But I forgot that we had fishing lines in the water, Slowing the boat down allowed them to get caught around the prop, which had been turning while we were sailing. Weirdly enough, as the prop twisted the fishing lines, they started twisting my pant leg. The strain was so great that I had to take my pants off to get myself free. I then dove into the water to cut the fishing lines free and we were soon back underway.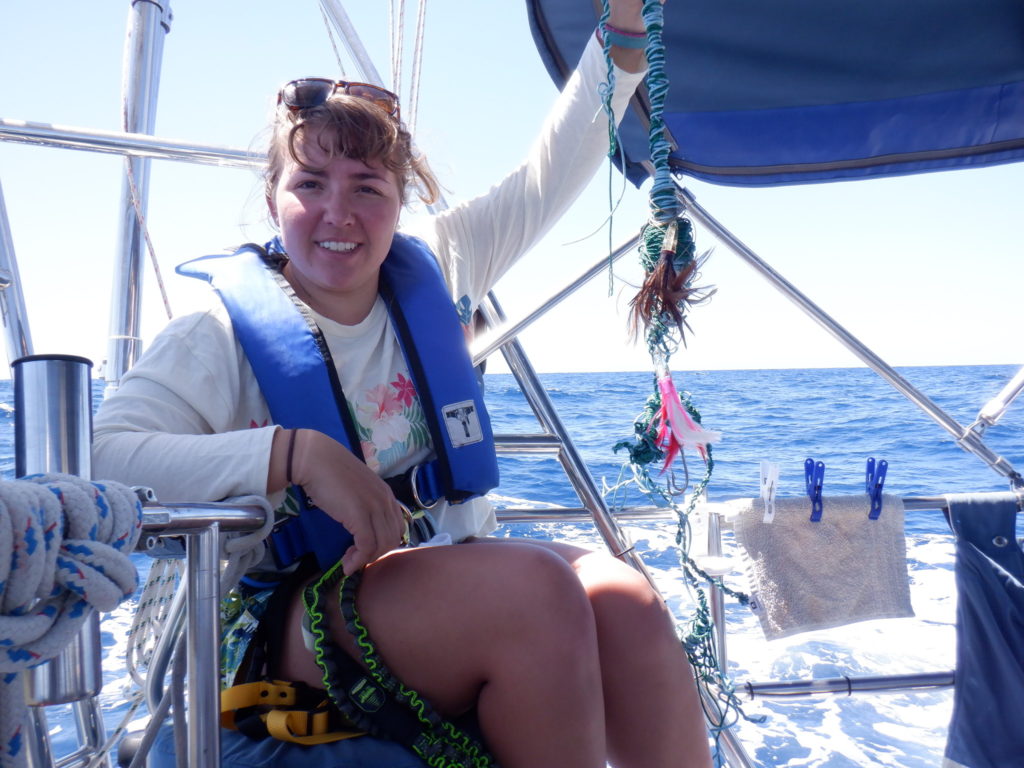 I'm embarrassed to say that the sail over demonstrated that Aldabra was not quite ready for the passage to French Polynesia. I had not put the boat through enough pre-passage testing. Right away I discovered that the screws inside the macerator pump for the forward head had corroded and the pump was leaking. Pat and I took the pump out and plugged the hoses and we just didn't use that head.
The boom topping lift shackle had not been moused and the topping lift came off the boom. The transmission would not go into neutral after we put it into reverse while sailing. The shifter cable was being impeded by the wire for the compass light. We had to take the compass off to free the wire. One of the port shrouds was too loose and possibly the backstay was too loose.
We arrived in San Jose del Cabo at night on Tuesday, March 24th. Finding the marina entrance at night was a bit unnerving but once inside we glided into the slip.
San Jose del Cabo is a small, friendly marina. The area was very quiet but there were a couple of restaurants and a laundry. We met some nice cruisers and enjoyed our brief stay. We mostly worked on boat projects and refueled. Plus we emailed several documents to an agent in Cabo who could clear us out of the country from there.
On Friday, vessels Shamaal and Bumblebee arrived from the Sea of Cortez. We all went through a bit of drama because rumors were coming from several sources saying that the port of Cabo San Lucas was closed and that the port of San Jose del Cabo was about to be closed. We didn't want to be stuck in a port, so we were a bit concerned.
As it turned out, the port of San Jose del Cabo wasn't closed. But even if it had been, we had inadvertantly failed to check in with the port captain so we didn't need to check out. On the morning of Saturday, March 28th, we just left without a word.
When we arrived in Cabo, all three boats went to the fuel dock and got a bit of fuel. The agent met us there to provide our exit papers and take our immigration cards. And the security guard at the dock helped us get slips in the marina.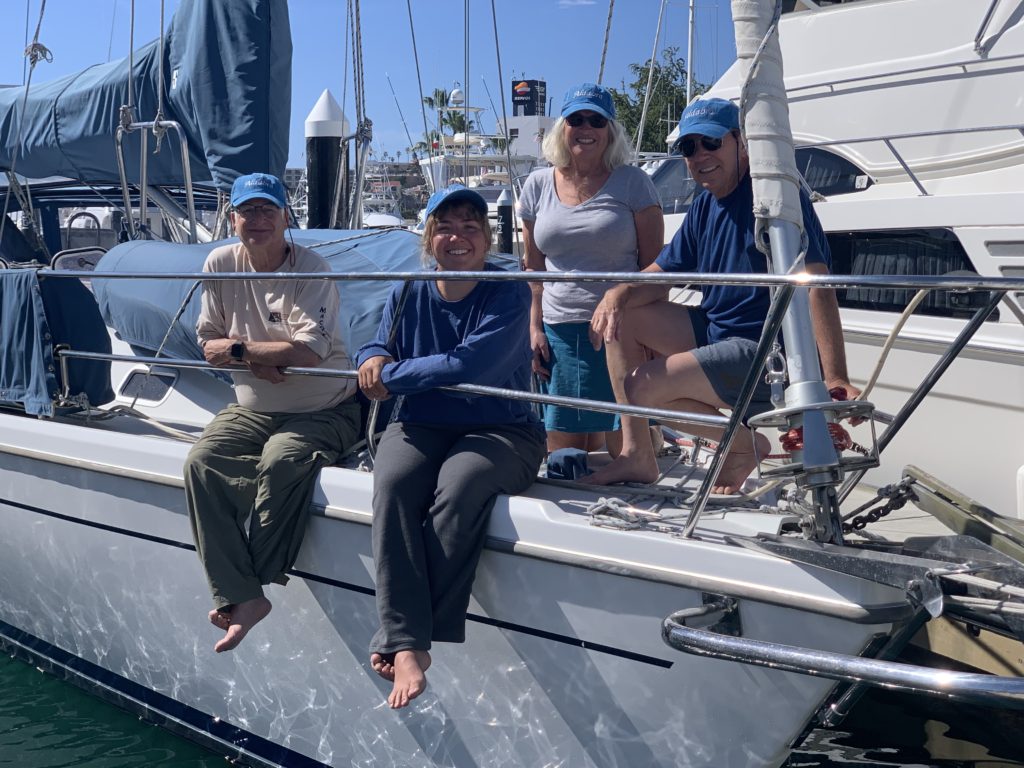 We stayed in Cabo for two nights, nervous again because they had officially closed the port. More rumors were flying online that all ports were closed in Mexico and cruising boats would have to stay wherever they were located. We had no intention of staying, so we planned to leave before daylight on Monday morning, before the port captain noticed us.
Anyone who has visited Cabo knows the marina is usually wild with hustle and bustle. But because of the Coronavirus, it was a ghost town. We went to the beach and walked around the marina area and town. We found a mini supermarket with some decent vegetables. And we ate dinner in restaurants that were on the verge of closing. We felt for all the people who made their living from tourism and now had no income.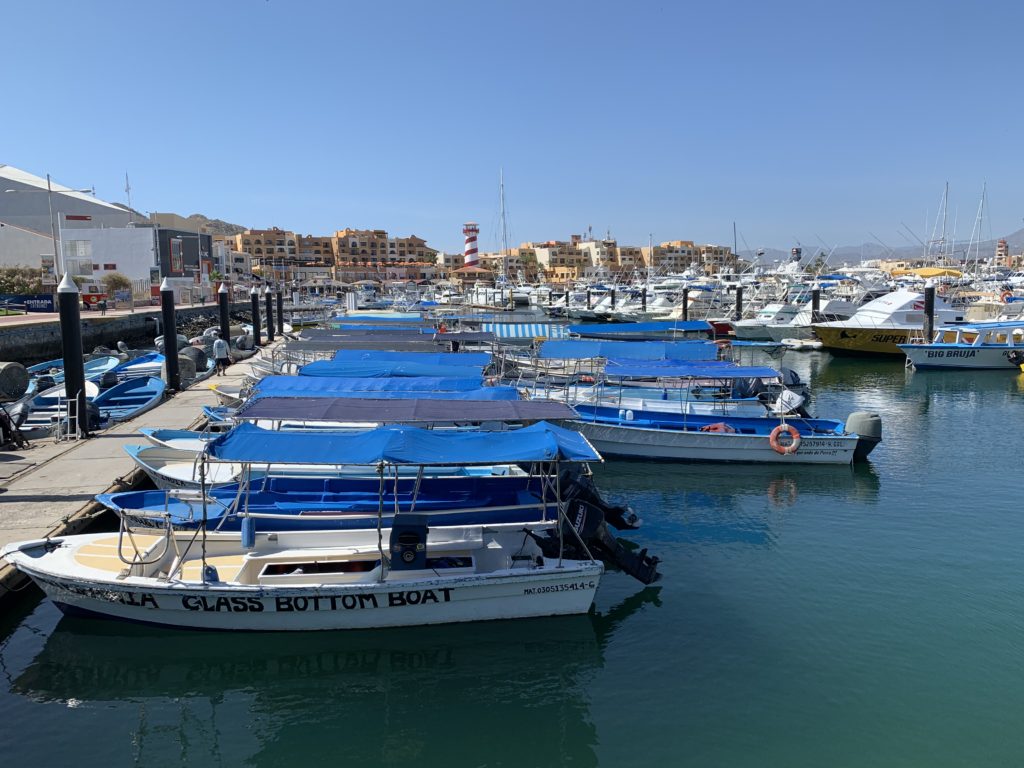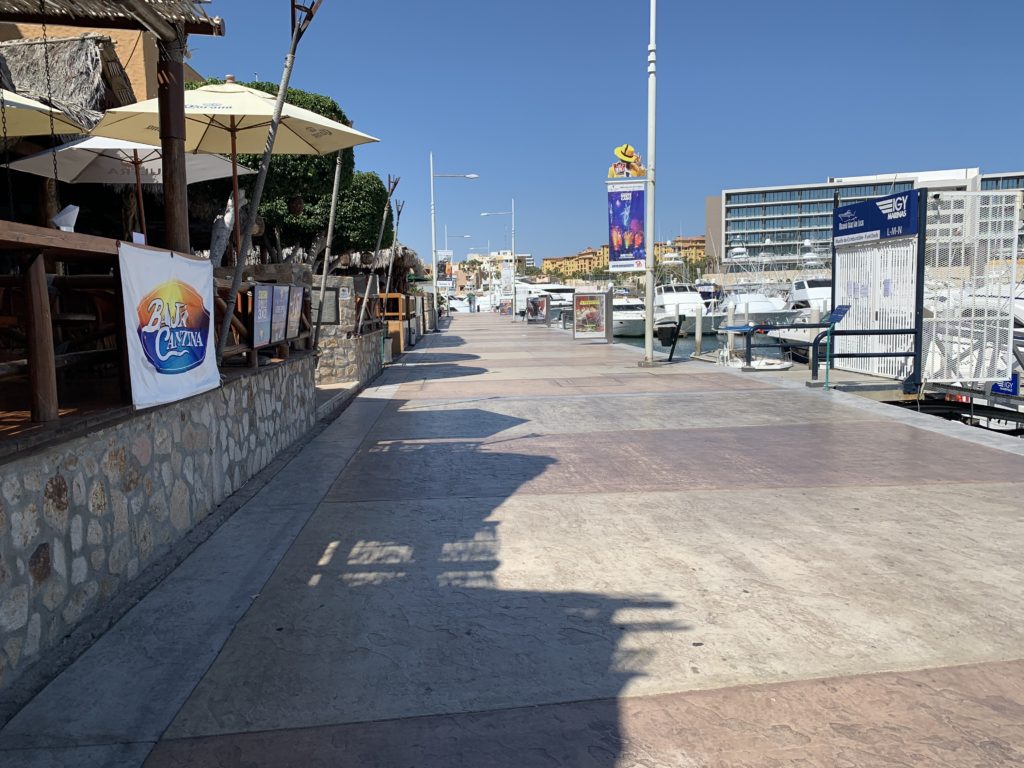 More than once we talked to marina guards and supervisors about whether we would be stopped from leaving on Monday. We thought about making our exit on Sunday night. In the end we correctly surmised that the port closure had to do with commercial boat traffic. As cruisers on private vessels, we would be allowed to leave as long as we already had our papers and as long as we were headed to Ensenada or San Diego. We could not go to any other port in Mexico.
Because uncertainty prevailed everywhere, including with the port captains and marina employees, we made our exit on Monday morning at four o'clock. The trip around the point was manageable. We motor sailed upwind for two days in O.K. conditions.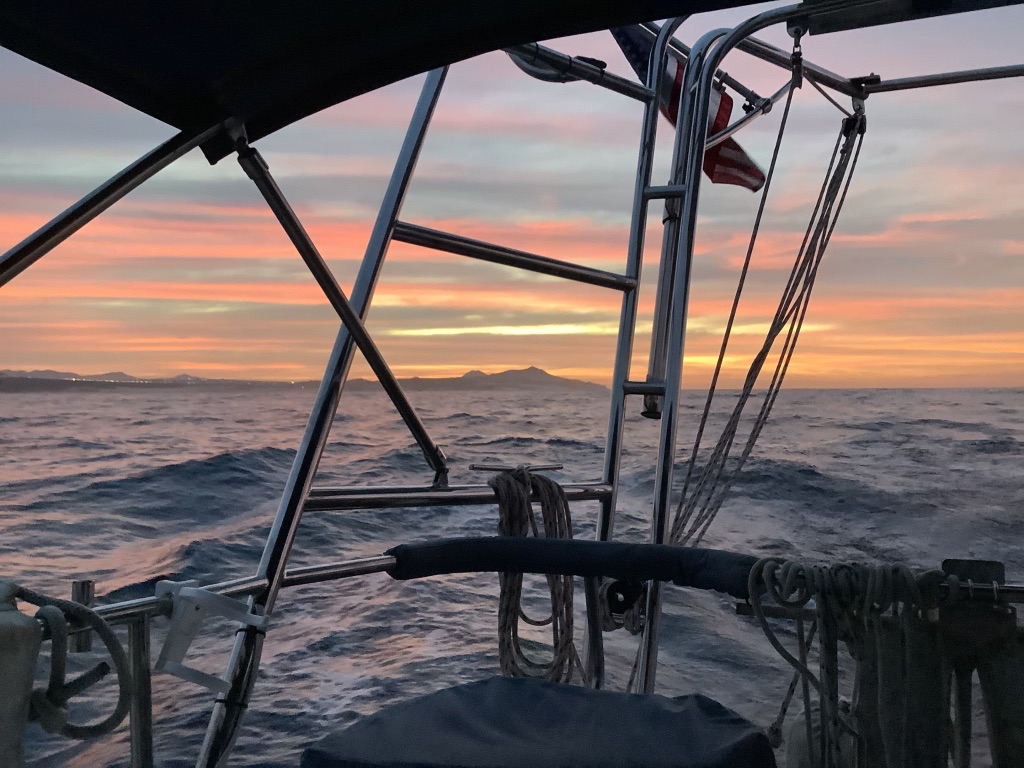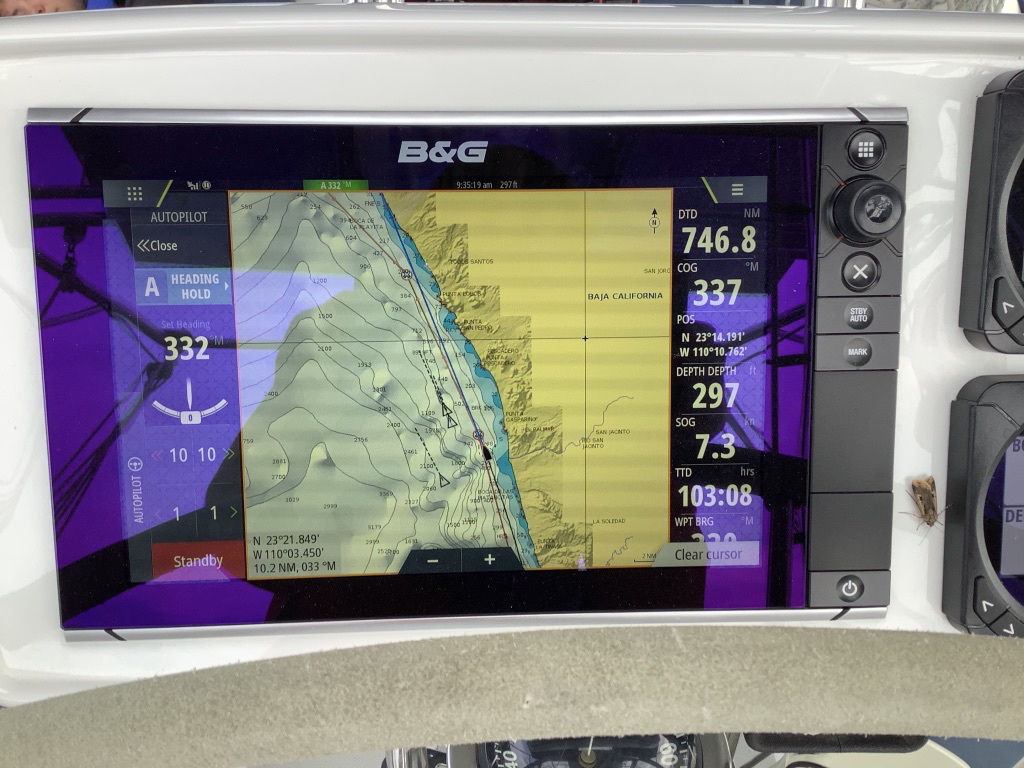 The third day started getting pretty gnarly with winds consistently in the upper teens and waves bigger, steeper and closer apart. And it was cold! As the wind was starting to intensify, Dana caught a fish that was big enough to keep and clean. She had caught three fish the day before but had release them. (These were the first fish she had ever caught.) Following instructions in a book, she cleaned and filleted the fish and then cleaned her utensils and the bloodied boat.
By early evening we still had some 65 miles to go to Turtle Bay. To get some relief, all three boats turned into Bahia Asuncion, which was only 18 miles away. I texted friends to make sure we would have wind protection there and they highly recommended the stop. They were right. We arrived at the anchorage at 7:30, just after sundown, and the waters were flat.
We were so relieved to cook dinner in calm, flat water. It was still cold and windy but we didn't have to stand night watch in a cold, windy cockpit. What a contrast the day had been with our vision of sailing to the South Pacific. This was certainly not what my crew had signed up for.
Early the next morning the three boats had a radio meeting about weather, and then I called Shari Bondy, who runs a hotel and campground in the town. She sent Larry, the nephew of a local restaurant owner out to the boat. We handed over our fuel cans to him and Dana hopped in his boat to head to town. They refilled the fuel containers and went to a small tienda so Dana could get a bit of produce. When they got back, Larry also took our trash to shore.
It would have been so nice to explore the town of Asuncion and meet our hosts. But the quarantine was in effect and we were discouraged from going ashore.
Meanwhile, Pat and David and I did a bit of cleanup inside the boat. During this first leg of the Baja bash, everything had moved about the cabin and was in total disarray. I also made some phone calls in preparation for arrival in San Diego and did some weather and route planning for the leg that would take us to San Diego.
We also pondered the mystery of the water tank, another problem that would have been a challenge during the passage to the South Pacific. No matter how long we ran the watermaker, the tank would only fill halfway. We suspected that the tank had a crack in it and the water was leaking into the bilge. But there wasn't really much we could do about it until we reached San Diego. It's just one of many little annoyances that needs to be fixed. (Another one is that our red and green lights on the bow went out.)
The morning at the anchorage was warm and calm but the winds picked up and grew cold in the afternoon. Dana baked cookies while David and Pat read. We grilled chicken and the fish for dinner, which included mashed potatoes. Still in flat water, we enjoyed a comfortable evening.
Earlier this morning the crews from Shamaal and Bumblebee came over for a visit, which was very nice. Since taking our showers, we've wiled away the afternoon, reading and writing. One of our crew members is suffering pain associated with passing a kidney stone while the wind continues to announce itself.
Sunday, April 5th, 10:30 a.m.
We're headed north to Turtle Bay for one overnight before making a bigger push north. We aimed to leave Bahia Asuncion at 4:00 a.m. but our engine wouldn't start. Jerry on Shamaal suggested we jiggle the starter wires. We did that and it worked. We were off after a delay of about 45 minutes.
The other two boats are motor sailing and going faster. We're just motoring. The winds are light and the angle to the wind is small so we lose a bit of an assist from the main but we don't have to bear off to keep if full.
Yesterday was a pretty boring day in the anchorage. The wind was brisk and cold. The other two crews came over for a visit and a weather meeting. We played a couple of rounds of Hearts. And we read and puttered and checked the weather. At least today we're knocking eight hours off our northbound journey.
Monday, April 6th, 5:00 a.m.
We pulled up anchor, raised our mainsail and left Turtle Bay along with Shamaal and Bumblebee. We motor sailed north in decent winds and biggish swells. The wind speeds and directions varied. It kept getting colder. And eventually we got rained on as we approached our destination. But the last leg of the bash was unremarkable.
After dinner on the last two nights it was so cold that we all wanted to be down below and out of the wind. So we played a couple of rounds of Hearts before night watches started. Between hands, while the dealer was shuffling the cards, I'd run out to check on the other boats and adjust the sails. For night watches, Dana took 10 o'clock to midnight. David took midnight to 2 a.m. Pat had 2 to 4. And I went from 4 to 6.
As the day started on Wednesday, April 8th, we were just south of San Diego. Light rains would visit us briefly but the day was beautiful. I got a text from friends in Nuevo Vallarta because they had heard that the port of San Diego was now closed. I called the vessel arrival authorities and was told to call them when we arrived at the police dock on Shelter Island. The agent I spoke with was annoyed that I was so ignorant of entry procedures but did not suggest that we would be denied entry.
We arrived at the police dock on Shelter Island at around 9:30. There was some confusion about how to clear in. I didn't have the ROAM app and had not used it to register to enter the country. I finally started using the app to register but hadn't completed the process before some Customs and Border Patrol guys showed up to clear us in. Once they were there, all three boats were cleared in in about 15 minutes.
Shamaal and Bumblebee stayed at the police dock to prepare for continued northbound travel. But Aldabra left the dock and headed over to our new slip at Sunroad Resort Marina on Harbor Island.
We spent a couple of hours sorting out things on the boat and my friend Tom from Catatude brought us face masks. We then gathered up our trash and dirty laundry and headed for the parking lot. David's wife Susan picked him up and my sister Wendy arrived to take Dana and Pat and I up to their house in Escondido. We did laundry and took showers, had dinner and slept very well.
Friday, April 10th
Dana and I spent yesterday cautiously doing some errands. We went to Target where Dana got some warmer clothes and I bought a couple of sleeping bags. We then went to visit my mother, where we picked up some groceries that my sister had bought us and I got some warm clothes. After dropping off the groceries at the boat, we went back to Escondido for the night. We're waiting for the rain to stop a bit before Dana and I move back onto the boat to shelter in place while working on boat projects.