We arrived in the Bay of Virgins on Fatu Hiva before 2:00 p.m, in front of the village of Hanavave. There were about six or so boats in the anchorage and no room for us in water less than 70 feet deep. Migration came in right behind us and found a spot in a slightly shallower area. Waveriders, Andrew and Liane, came in behind us as well.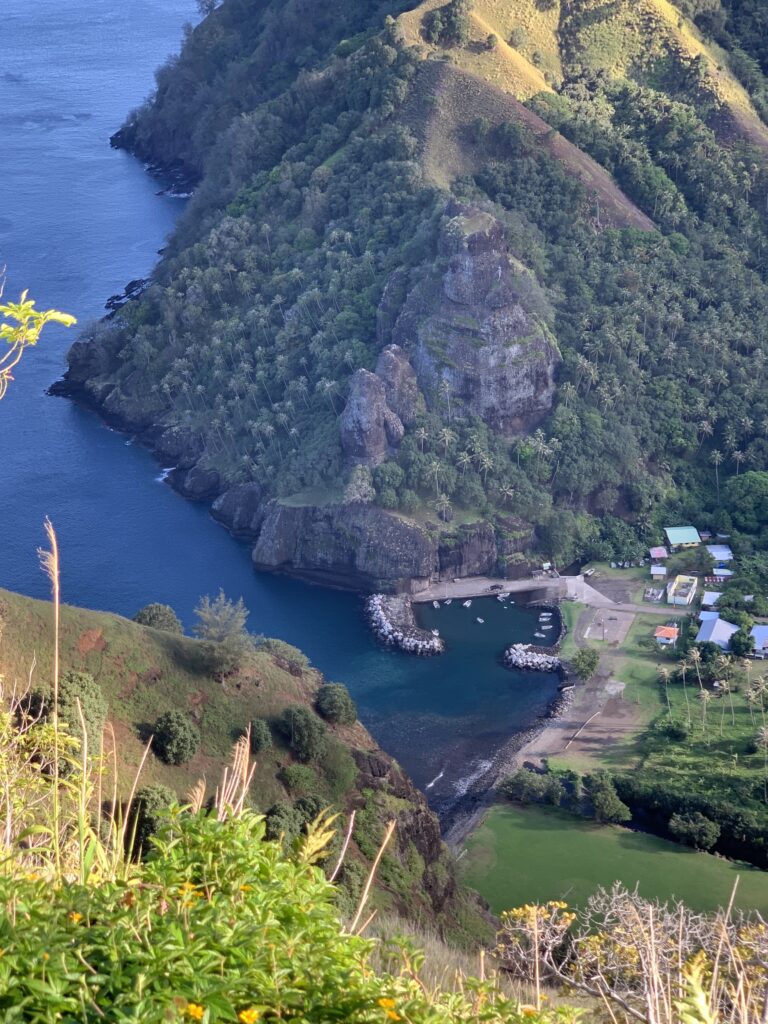 Fatu Hiva is a storied place, perhaps one of the most beautiful islands in the world. It has a population of about 700 people and is accessible only by boat or helicopter. The Bay of Virgins is surrounded by steep walls of tall, distinctive rock formations and lush greenery, including hundreds of coconut palms. The peaks of the mountains are often shrouded in fog. And while we were there, the wind gusted down from the mountains, through the valleys and through the anchorage, sending gusts of 20 to 40 knot winds to harass the boats. While we were there, boats came and went, with many staying as long as we did, in anticipation of an inter-island festival to begin on July 7. The anchorage is mostly deep and several of the boats dragged and had to re-anchor, sometimes more than once.
The day after our arrival, Wednesday, we went ashore, leaving the dinghy behind a breakwater that forms a safe little harbor. As we began walking through the town, we met a man by the name of Cristian in front of the house. He invited us to his home to see his carvings and I bought a rather large tiki carving. We made arrangements with him to come to his house the next night for dinner and he would give us fruit. From there we walked a couple of miles to the waterfall, meeting up with Andrew and Liane on the way. We visited the waterfall without swimming in the pool because it had some scum on the top, then walked back to town.
As we were heading back to the dinghy, we met Patrick, who gave us bananas and invited us to go with him to the other town, Omoa, in his truck the next day. We joined Patrick at 8:00 a.m. on Thursday and he drove us through hairpin turns up over a steep mountain and down into Omoa. There we shopped at the magasin (market) for a few provisions (they didn't have much) and met with a woman by the name of Glenda to look at her carvings and tapa cloths. I bought three tapas, Marshall bought one and Johno bought one and a stone carving of a manta. She gave Dana and me each a necklace. Patrick drove us around to see a bit of the town and then we headed back to Hanavave. At the summit, Dana and Johno got out and walked the two hours back and Marshall and I continued on with Patrick back to the dinghy.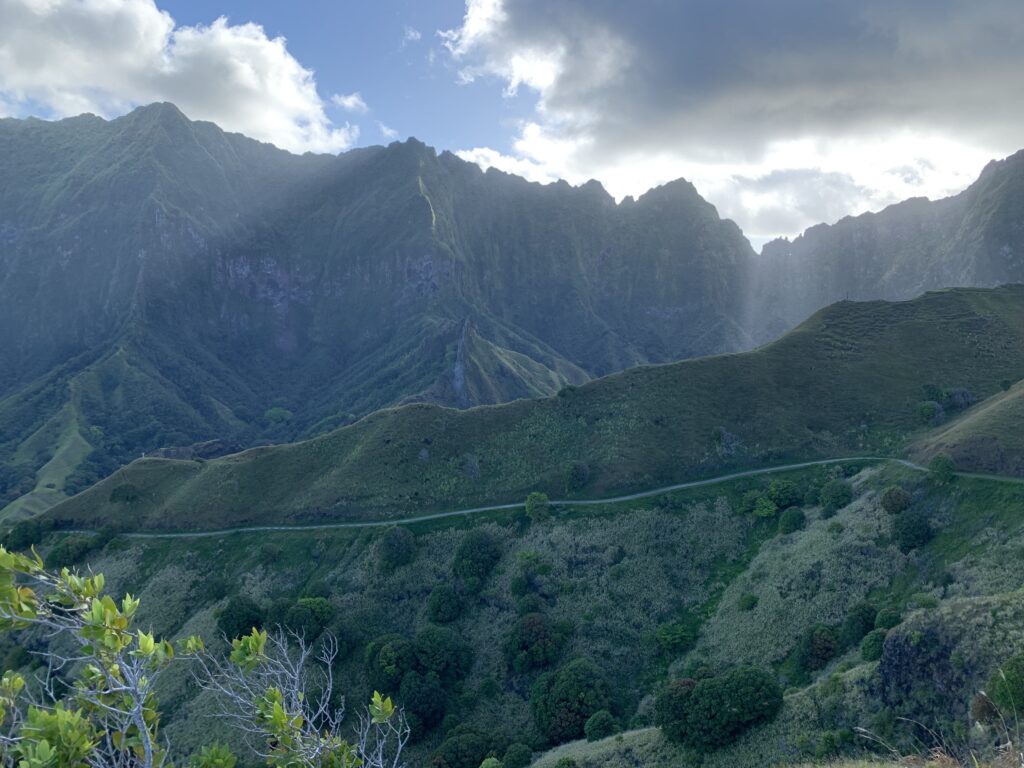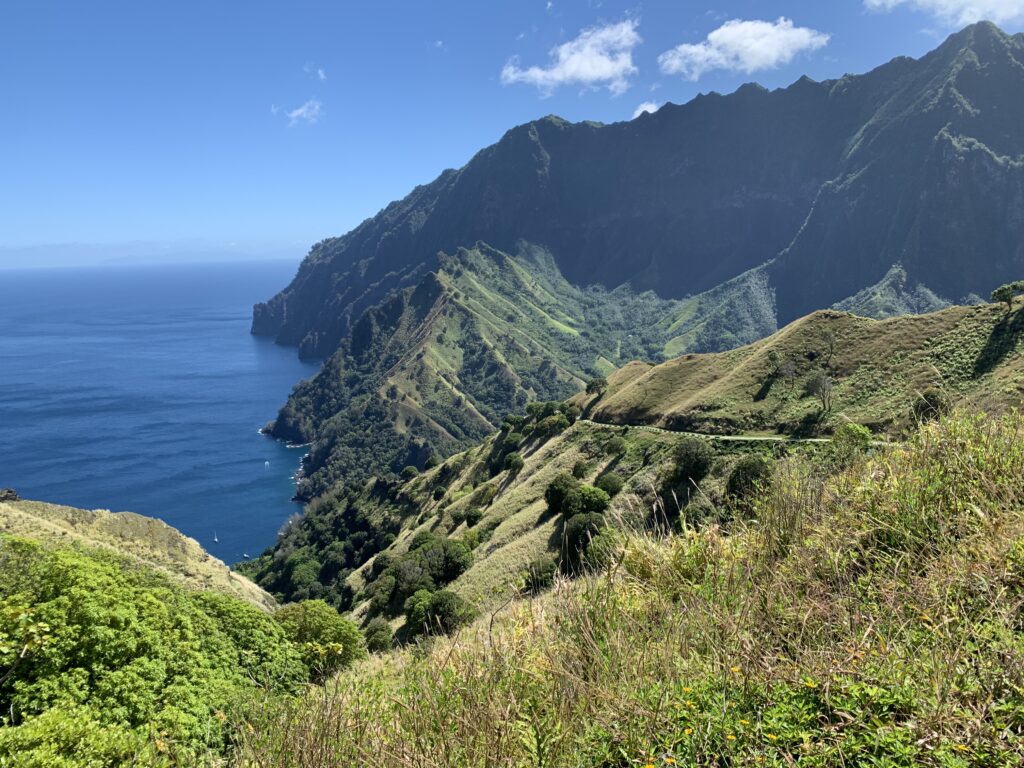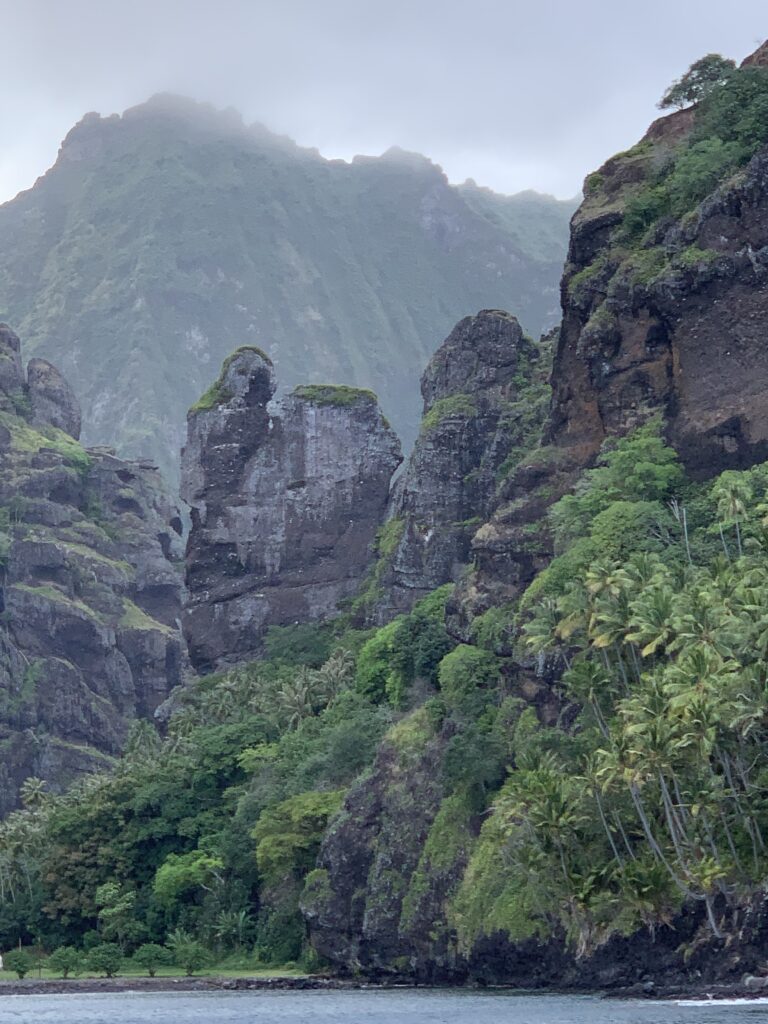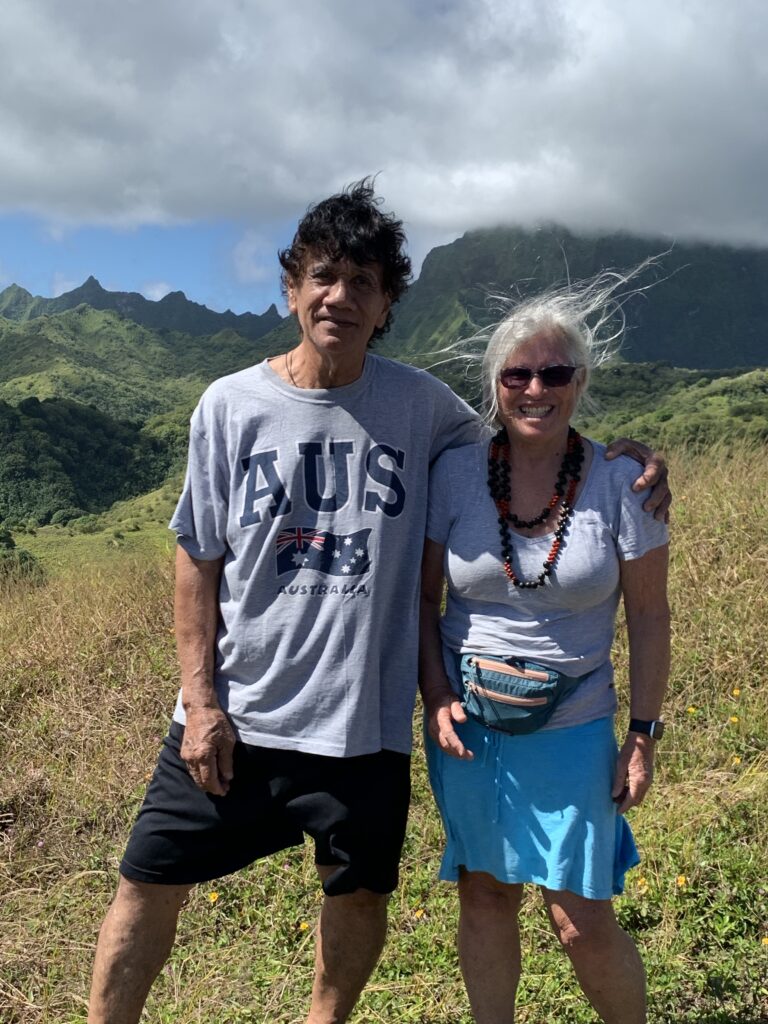 Later in the afternoon, Marshall and I went back to shore and met up with Dana and Johno. We tried to watch a local practice for the festival but no one was there yet, so we wandered into a neighborhood behind the soccer field. As we walked aimlessly, we met Angela, whose husband carves beautiful bowls out of rosewood. We met Priscilla, who promised us mangos for the next day. And we met Kulina, who invited us to their house for a dinner.
Later, we met up with Bruce and Alene of Migration for a delicious dinner at Cristian's house, where he gave us more fruit. On our way to Cristian's, we met Alex and Yvette of Blue Beryl. This young Dutch couple is quite adventurous and energetic. They told us the story of getting dismasted between the Galapagos and the Marquesas. Alex worked with another cruiser (Tim on Candine) to salvage a mast from another boat and re-rig his boat. It was quite an epic story.
We started the next morning by going to shore to meet up with Priscilla for the mangos. It turned out that she wanted to trade them for rope, so I dashed back to the boat to get some rope. On my way back, I met up with my crew and a man named Sopi, who was coming home from the hills with a pack horse carrying coconuts and bananas. He saw the rope and wanted it. So I cut it in two and gave him half. He then took us to his home to show us his carvings. While he was showing Marshall and Dana and Johno his carvings and how to husk the coconuts, his wife asked me for perfume. So I went back to the boat and got her some perfume.
We invited Migration and Blue Beryl to join us that day, Friday, on a hunt for a grotto that Dana's parents had found in 1992. We set out from the anchorage, going north toward the tip of Fatu Hiva and managed to find the grotto. We anchored the dinghies, swam to shore and crawled behind some boulders to find the hidden brackish pool. We swam around in it to explore. And as we left, Bruce and Alex brought out large pieces of plastic that had been left there.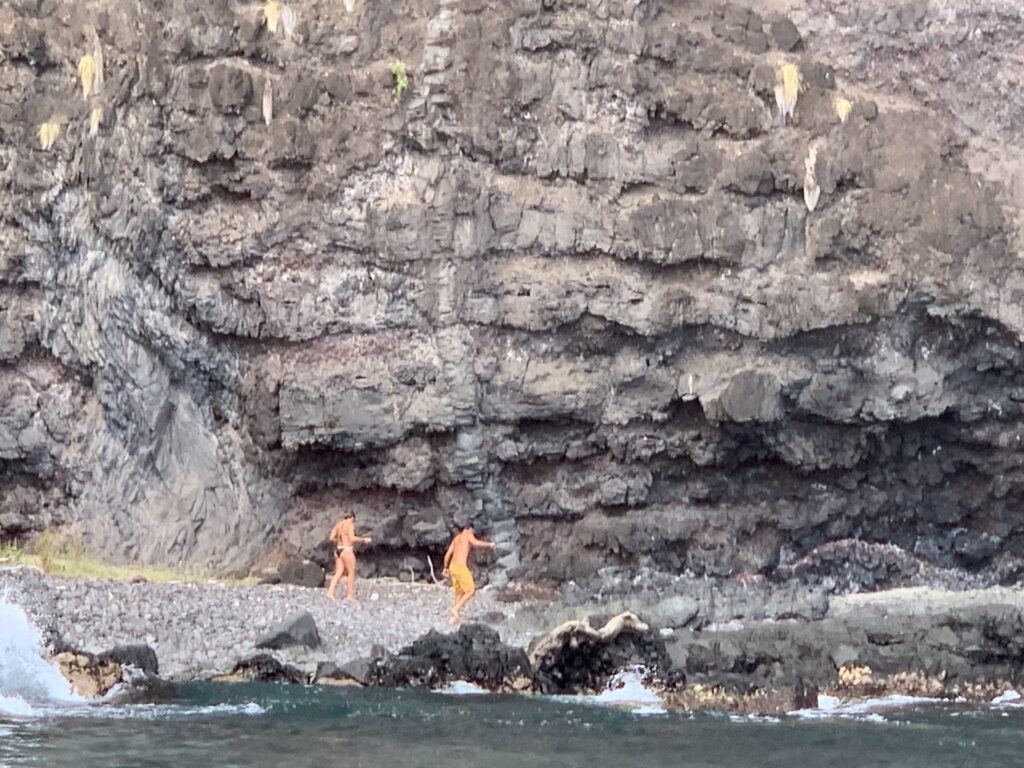 On the way to the grotto we found a beautiful tunnel-like cave with lustrous teal water. On the way back from the grotto, we stopped by again so Dana could scatter some of her dad's ashes there. He surely would have seen it and loved it in 1992.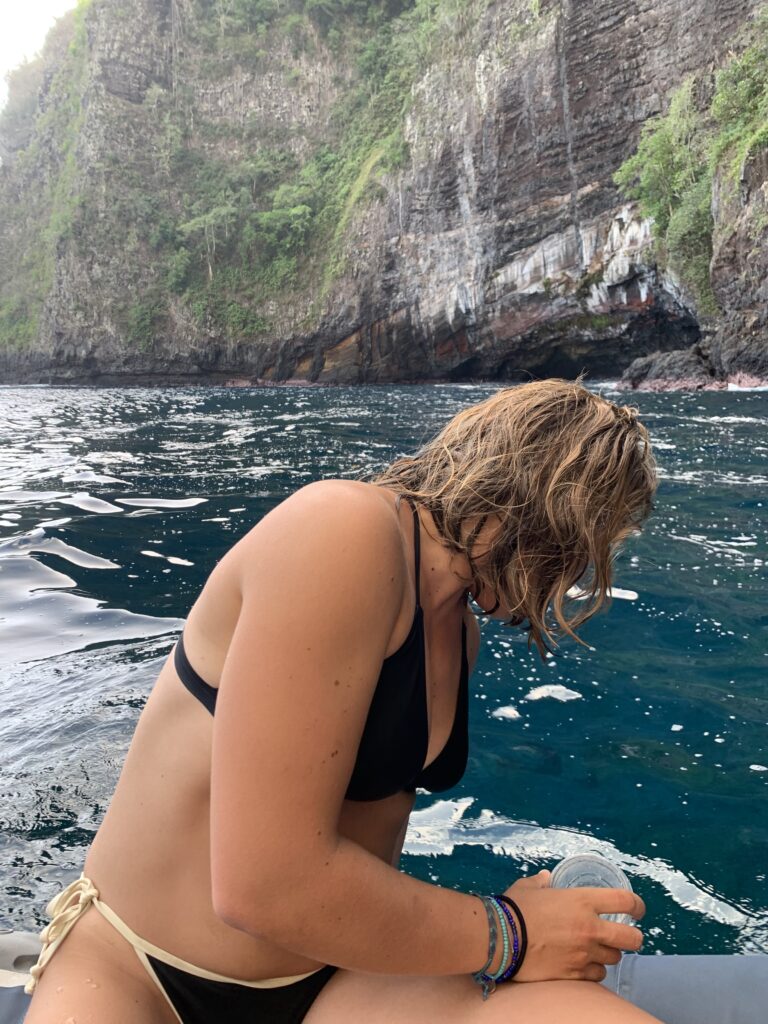 That night we went to Migration (a large trimaran with tons of deck space) for a potluck with other boats, including Blue Beryl, Pablo and Candine. It was a lovely night that passed by too quickly to talk to each person.
Our plan after the potluck was to leave at 3:00 a.m. to go to the Tuamotus. We had a narrow weather window to get there between light winds and really heavy winds. Our new friends at the potluck encouraged us to stay another week for the festival. When we got back, the crew had a meeting and decided to indeed stay.
The next day, Saturday, Dana, Johno and Marshall hiked with Alex and Yvette back up to the waterfall while I stayed on the boat to run the watermaker and defrost the freezer. On their hike, they ran into Ian and Laura (on Rala), who we had met in Daniel's Bay on Nuku Hiva.
On Sunday at 8:00 a.m. we joined Bruce and Alene for the Catholic church service. It was mostly singing and a bit of prayer in Marquesan. It was beautiful and captivating. I can't think of an hour better spent. Patrick, who we knew was a devout Catholic was one of the church elders who participated in the service.
The service was not well attended that day because the supply boat had come in that morning and the townspeople were at the dock, waiting to get their deliveries. After church, most of the attendees headed to the magasin, not necessarily to shop, but just to be social. We were there too, trying to buy cooking gas with Migration, but the store did not want to sell it to non-locals because there has been a shortage in the Marquesas.
We ran into Ian and Laura on Rala and I learned they were having trouble with weather downloads and were headed to the Tuamotus. So later that afternoon I took my weather download over to their boat and shared it with Ian, and he shared tips he had learned about making it into the passes of the Tuamotu atolls. We planned on getting together the next day on Aldabra, but the wind came up that afternoon and a lot of boats started dragging their anchors. Rala tried to re-anchor several times, helped by other cruisers late into the evening. They finally anchored for the night but it was an intense night of gusty winds so they pulled up anchor the next day to head for a shallower anchorage. I imagine that they will get a couple of nights rest before heading to the Tuamotus but I wasn't able to say farewell.
Monday brought more gusty winds in the anchorage. Dana and Johno went for a walk to the top of a mountain. Marshall and I cleaned the cockpit and he visited with other boats in the anchorage. I made some hummus. Migration and Blue Beryl joined us on Aldabra in the evening for sundowners, appetizers and hot dogs to celebrate the fourth of July. Migration is the only other American boat in the anchorage.
Monday night was an intense night of winds, which carried through all day on Tuesday. I did get into the water at one point to clear a thru-hull that was backed up with critters in it. But it was an otherwise lazy writing and reading day for all of us while we waited out the winds, which were gusting in the 30-knot range.
On Wednesday morning, another windy and rainy day, Dana and Johno set off from town to walk the 17 kilometers up and over the hill to Omoa. In the afternoon, Alex and Yvette from Blue Beryl took our dinghy over to pick Dana and Johno up. They were joined by Sam from Pablo in his dinghy. They had managed to get a bottle of cooking gas with the help of Graham on Pulsar. When they returned, Bruce from Migration came over to show us how to transfer the butane from the big bottle to our smaller tanks. We were pretty excited to be topped off with cooking gas since we'd been rationing ourselves by not using the oven.
On Thursday, I baked banana bread and the others did chores. We took the dinghy the three miles to Omoa for the start of the festival. We started by having lunch at the snack where we could use wifi. Dana and Johno booked their flights to return home in August. We then joined in watching the performances, which lasted until after 10 p.m., after which we took the dinghy back to Hanavave, arriving at 11:30 p.m.
On Friday, Marshall and Dana and Johno went back to the festival in the afternoon, first to do Internet and then to watch the evening dancing. I stayed back and ran the motor and the watermaker and did some chores. Earlier that day, we tried to convince a boat that had anchored in front of us to move. They weren't inclined to do so, and left for the festival. Shortly afterward, as we were in our dinghy talking to Alex, the new boat hit Alex's boat. We used dinghies to push it away and Alex put a stern anchor on the new boat. Meanwhile Migration went over to Omoa in their dinghy to send the people on that boat back to move their boat, which they did.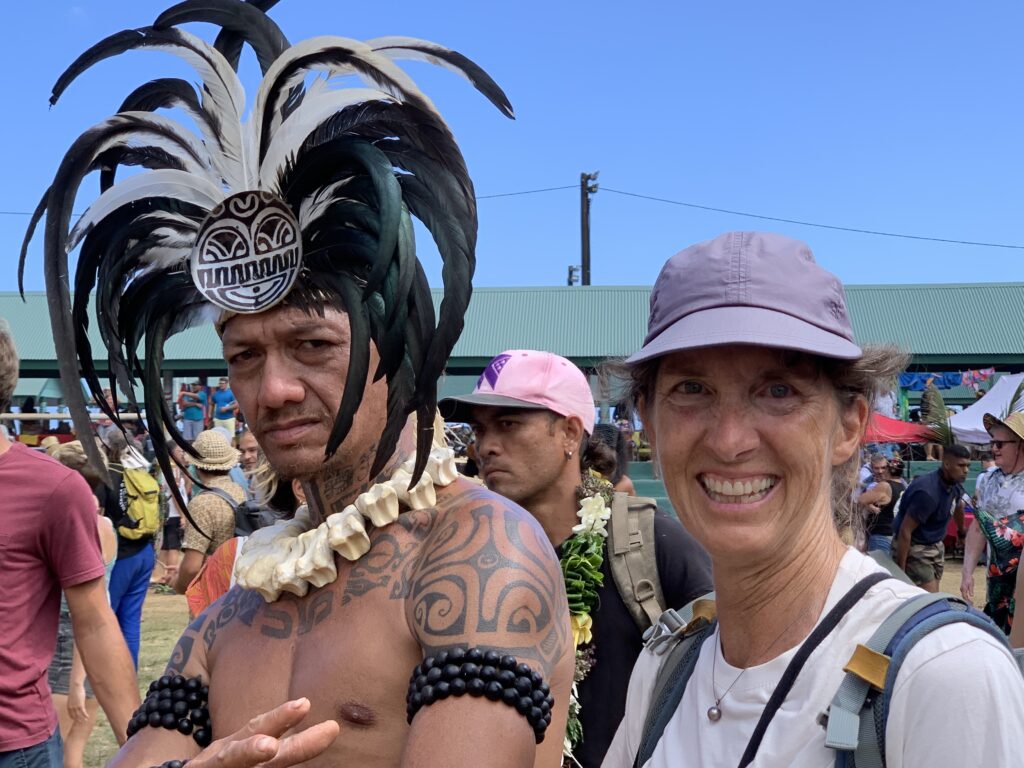 Saturday was to be our last day at the festival. We decided to take Aldabra over to Omoa and anchor to avoid the long dinghy ride between the two bays. We planned to pull up anchor after the festivities and sail to the Tuamotus. Unfortunately, we anchored too close to Antje, and while we were ashore, our boat hit their boat and damaged their steering vane, an essential part of their sailing needs. After we successfully avoided all the boat-collision drama in Hanavave, we now caused a huge problem for Antje. Although we did pull up anchor that night for the Tuamotus, I regret not staying there to help mitigate the hardship for Antje.
The dancing that night by the Nuku Hiva and Fatu Hiva groups was spectacular. A great way to end our magical visit to Fatu Hiva. We made wonderful new friends among the cruisers and the islanders. I started missing them all as soon as we were underway.