I can't believe it's been so long since I last posted an update. Sometimes I don't have Internet access, but that excuse hasn't been valid for a while. My last post had me flying to San Diego in February for a brief visit. When I returned, I took Aldabra to Tenacatita, just north of Barra de Navidad. I hung out in the anchorage for more than a week, doing some walking and swimming and visiting. The log book also reminds me that I fixed a pump in the head and troubleshot issues with the watermaker and the solar panels. Got both working.
I returned to the Barra marina for the arrival of my friends Pete and Cookie Schaus of Boulder, Utah. Once they arrived, we spent a couple of days in the area and then pointed Aldabra back up to Tenacatita. We stayed there at anchor for a few days (swimming and beach walking) before heading north to Bahia Chamela, for just one night. It would have been nice to stay a bit longer, but we could see a brief weather window for a calm rounding of Cabo Corrientes, and then no other foreseeable opportunity.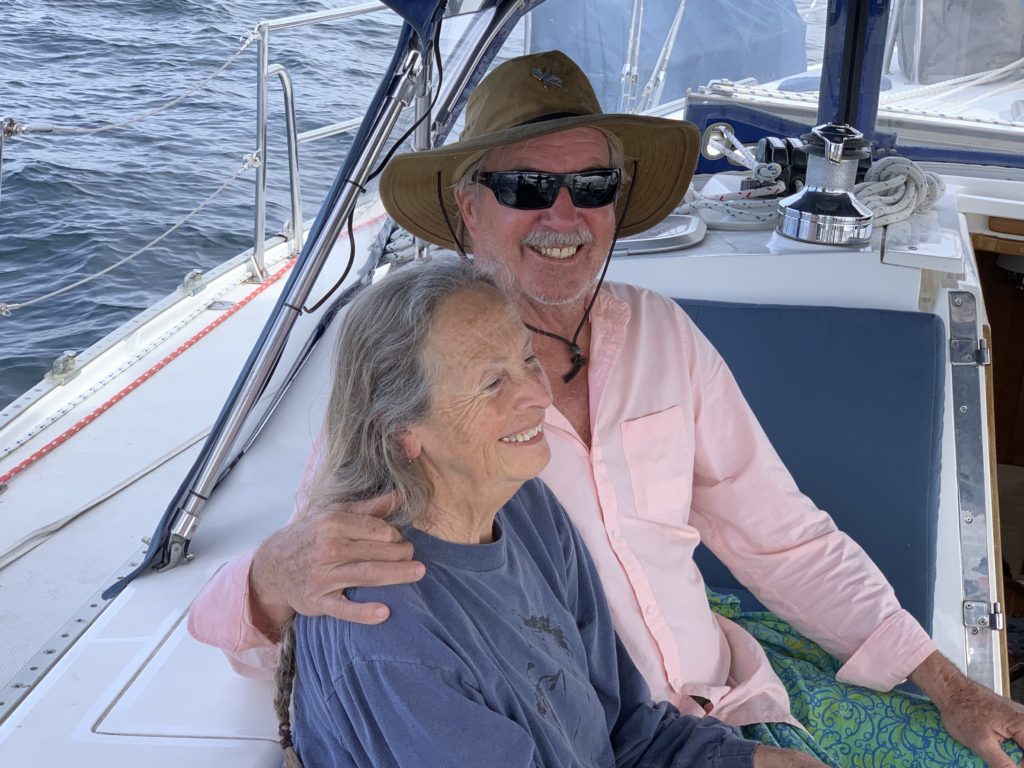 Anchored off the little village, we enjoyed a shrimp dinner onboard and got a bit of sleep before pulling up anchor at 3 a.m. the next day. We motored all the way around the cape and arrived at Punta de Mita at 6:30 p.m. The next day we motored to the marina in Paradise Village, essentially ending the short 2019 cruising season for Aldabra. Pete and Cookie were troopers, making the best of living in a marina for the rest of their vacation. One highlight of that was taking a boat across the bay on their final evening to see the Rhythm of the Nights performance. It's a combination of a boat ride to a remote cove, a dinner and a performance that is sort of like a Cirque du Soleil show. It was fun.
The reason why Aldabra's cruising season ended so quickly was twofold. First, the boat needed to be hauled out again to get the bottom painted. Second, I had planned for a short season so I could focus on getting the boat and myself ready for Aldabra's next big adventure, sailing to the South Pacific in early 2020.
As March came to a close, I began projects on Aldabra, interspersed with beach walks, swimming, dinners with friends and attending seminars. Jeff from El Gato helped me install a new tachometer (electricity still intimidates me) and a remote switch for my windlass so I can operate it from the cockpit if circumstances permit. Plus there were the usual chores.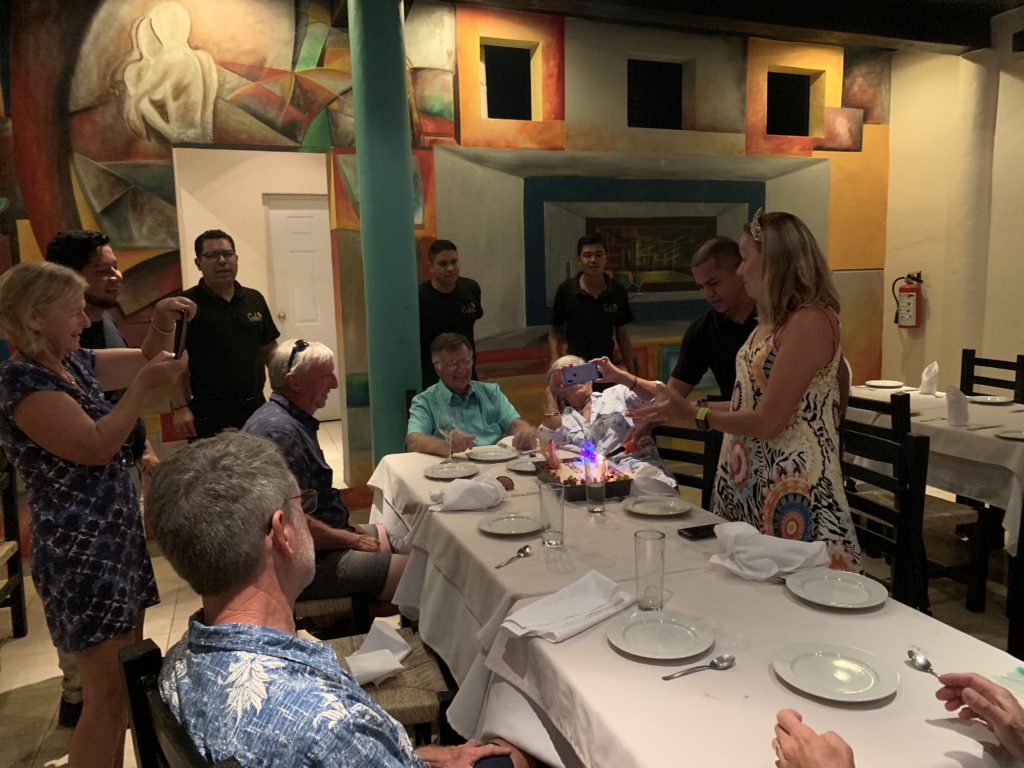 In early April, I traveled briefly to San Diego and Santa Cruz (taxes) and returned to the boat with my nieces Emily and Julia. We enjoyed a bit of vacationing. A trip to Sayulita and then to San Sebastian in a single long day. A beach day. A day sail. A dinghy ride up the river from the marina to see birds and iguanas. An evening at Rhythm of the Nights. And dinners out. They also helped me hoist the dinghy onto the foredeck for summer storage and then wash it.
After Emily and Julia left, I pickled the watermaker successfully. But in changing one if the filters, I broke a fitting that required me to shut off my fresh water system. I ordered the part from Amazon Mexico and arranged for it to be sent to Andy Barrow, who has a home nearby. I would be able to get the part a couple of weeks later.
On Easter Sunday, Al Garnier of Chez Nous helped me take Aldabra over to the Opequimar boatyard at Marina Vallarta. I spent the night at the dock and the next morning the crew hoisted Aldabra into the yard. I checked into a hotel across the street while they began work. It took more than a week for Alvaro's crew to strip and sand the boat bottom down to the original gelcoat, revealing the original boot stripe that had been painted over by the previous owner to raise the waterline. (This becomes necessary on cruising boats that are weighed down with all kinds of equipment and spare parts. It's one reason why we'll never win any races.)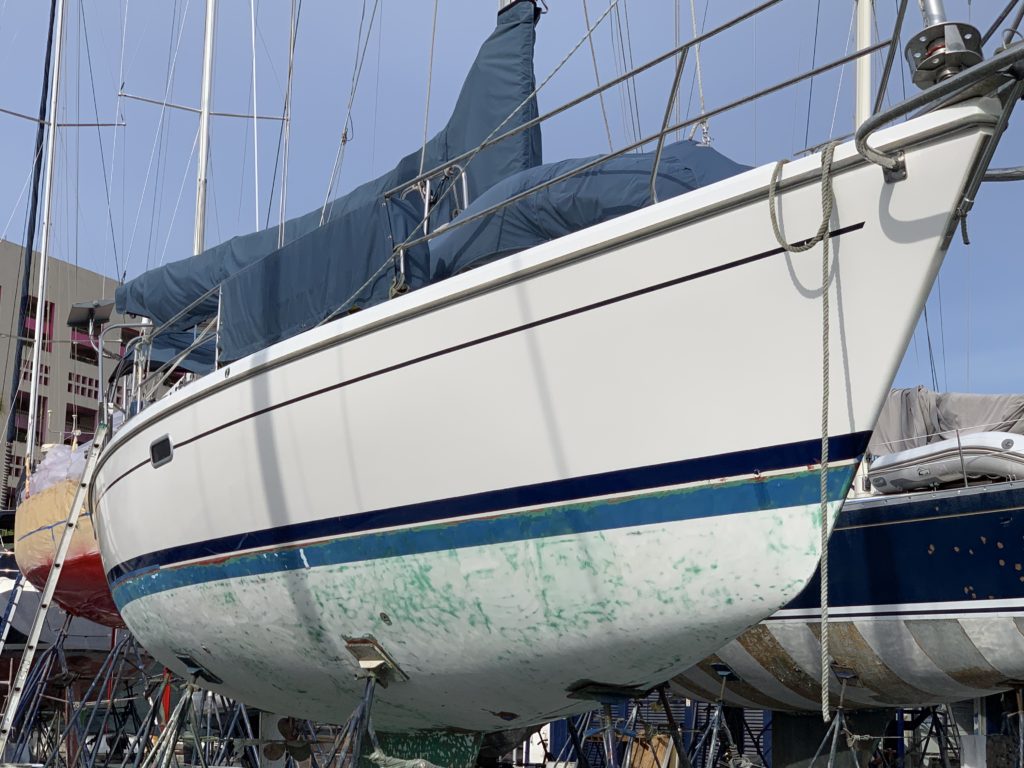 The boat was tented from the deck down to the ground to contain the paint dust, so it was hard to monitor progress. And the yard was so dusty that I was reluctant to hang out and work up above. The only work I did was to prepare the deck for the replacement of one of the sissy bars that Alvaro had to remove and repair. Otherwise, I stayed clear except for passing by three times a day just to take a look.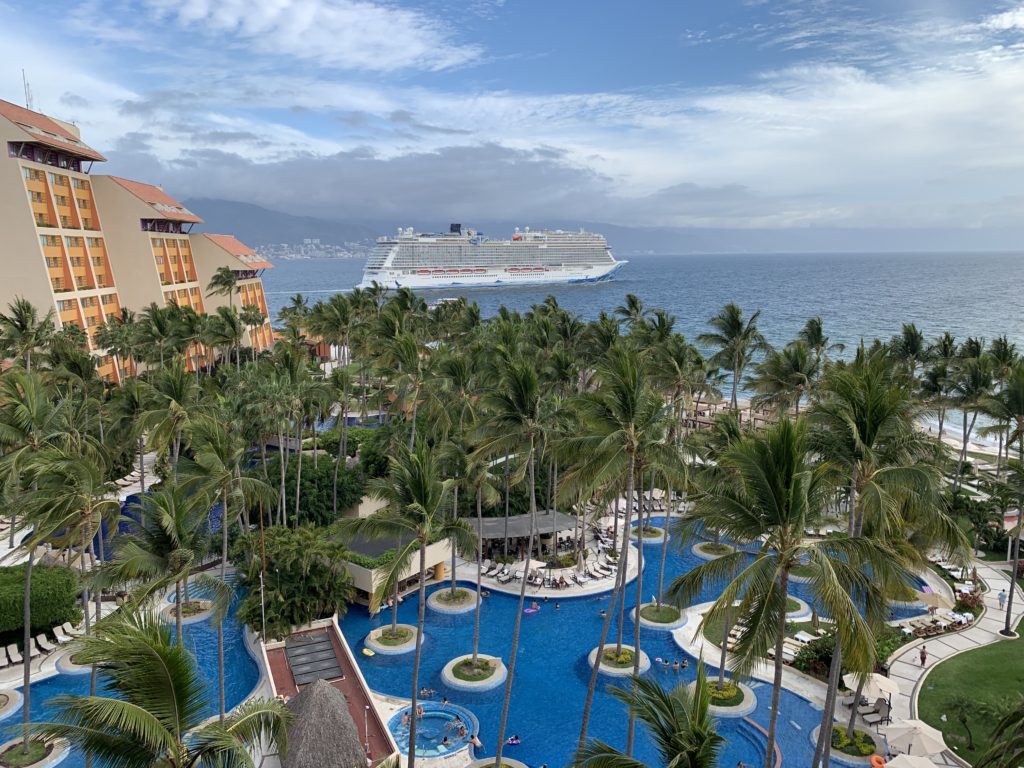 During my week and a half in the hotel, I enjoyed an air-conditioned room with a view of the cruise ships going in and out of Puerto Vallarta, convenient showers and the Internet. (I caught up on Netflix shows I had wanted to see.) During the days, after a leisurely breakfast, I walked from the marina in every direction. On one day I walked the malecon. On another I visited several downtown art galleries. Next I walked to the airport to research rental cars. And I walked to Costco. Buses are very convenient in Puerto Vallarta but I was walking for exercise because the hotel swimming pool wasn't designed for swimming. I walked on the busiest roads because I don't know the Puerto Vallarta neighborhoods well enough to use the side streets. So the walks were hot and noisy. But I got my steps in. I also hung out a bit with Jim and Liz from Gypsy Wind while their boat was in the yard getting its bottom painted.
Alvaro's crew did great work and eventually Aldabra had a newly painted bottom, a subtle black instead of red. On the morning she splashed, I motored her back over to Paradise Village and Al was there to catch the lines. (When singlehanding, I'm always stressed about leaving and approaching docks, so it's a huge relief to return to the slip without crashing into anything and have someone there to catch the lines.)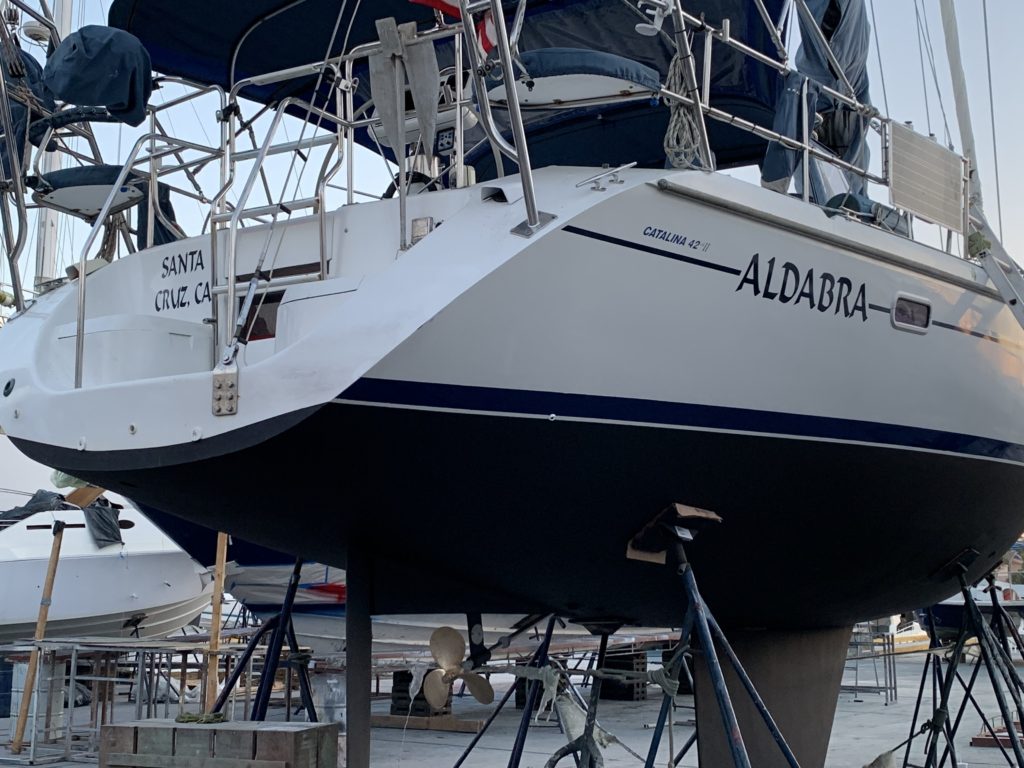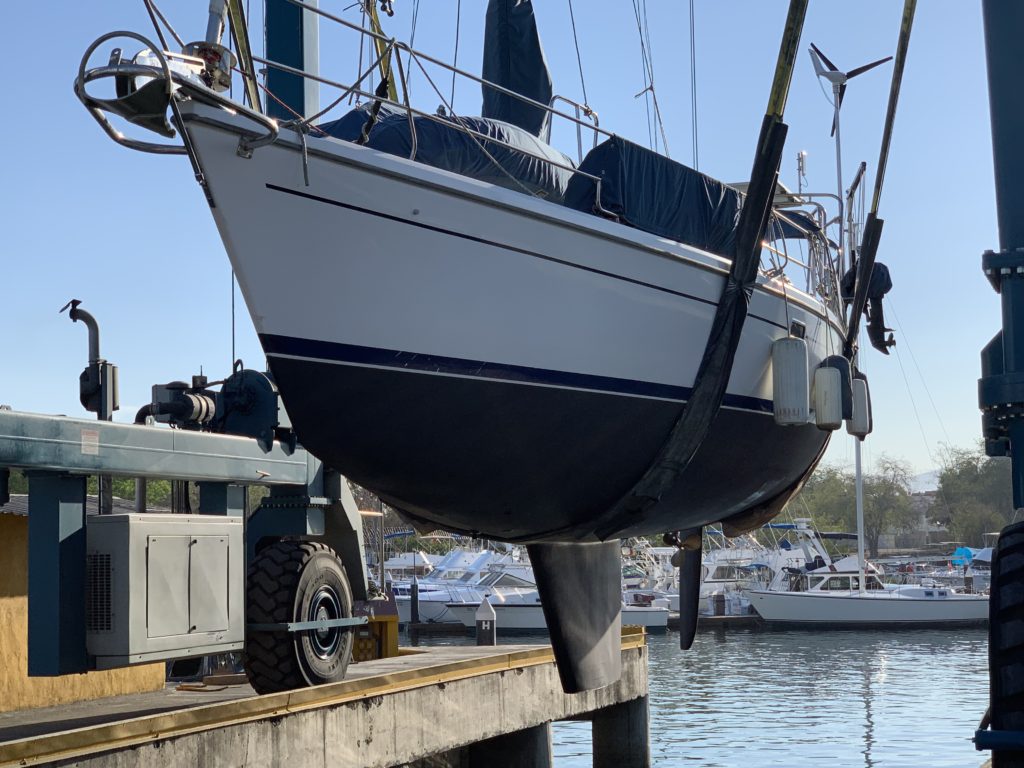 Once Aldabra was back in the slip, it was time to get serious about working on the boat. I would have about six weeks to get projects done and prepare Aldabra for the summer hurricane season. That would mean working full time almost every day. I started by installing the new fitting that would revive my fresh water system. The subsequent days sort of went like this:
Inventoried bins of spare parts and supplies.
Defrosted refrigerator and freezer.
Laundry.
Removed all gear from forward compartment below anchor locker in anticipation of rigging inspection.
Jamie from Totem conducted a bow to stern rigging inspection. He found many things that needed my attention.
Jason from Ullman Sails came to take my mainsail and jib for repairs.
Began removing lines from boat and rinsing them in buckets.
Discovered Alvaro's crew had not rebedded sissy bar properly and water was coming in. Removed the sissy bar, prepared the deck and rebedded.
Ran a new vent hose for the forward water tank.
Began removing blocks and accessories from the deck and rails to be stowed below deck for the summer.
Flew to San Diego for 4 days for my mom's birthday. Bought a car.
Arturo repaired a broken stanchion for the railing.
Cano from E2 Yacht Services helped me rebed the stanchion.
Removed the six opening portlights. In each case, some of the screws were so corroded that I had to drill them out. Cleaned up the mounting surfaces and rebedded the portlights. The whole job took almost a week and I'm still not sure the portlights won't leak just a bit in heavy rain.
Cano's crew polished the stainless railings and the hull.
Defrosted the refrigerator and freezer again.
Went shopping for screws with Cano.
Laundry.
Replaced a bunch of drain hoses leading from the cockpit to the lazarette and then overboard.
Cano replaced the exhaust hose while I assisted with tools.
Eddie dismantled the boom and vang.
Eddie inspected and cleaned the standing rigging.
Changed the motor oil and the oil filter, topped off fuel tank.
Hosed down the deck to get rid of metal shavings from Eddie's work.
Eddie and helper loosened shrouds and worked on removing port chain plate. They weren't able to figure it out. The next day I finally removed it and cleaned and prepped the surfaces.
More inventory of parts bins.
Went to Zaragoza to buy wire, then installed new antenna feedline for SSB radio.
Eddie and helper put spacers on the chainplate pin and we rebedded the chainplate. They tightened the shrouds and retuned the rigging. They took the boom.
Tightened a bolt on the steering quadrant and cleaned up some surface rust.
Removed and cleaned up the handles on the foward hatch, determined that I needed to replace them.
Inspected engine bolts, tightened one, clean rust off of a couple.
Replaced hose clamp on fuel hose.
Cleaned stove.
Cleaned pantry.
Hooked up inner forestay to deck plate.
Cleaned aft head.
Re-organized gear.
Drained engine coolant and replaced it.
Jason brought the repair sails back to the boat.
Cano washed the outside of the boat and cleaned the bottom, took the cushion covers off to wash in a washing machine.
Made templates of four windows that need to be replaced.
Removed the windows from the spray dodger and stowed below deck.
Removed bimini extension and stowed.
Collapsed bimini, put it in its boot and lashed it to the railing.
Stowed all jerry cans below deck.
Jeff helped me clean battery terminals and crimp a connector to the end of the new SSB antenna feedline.
Jeff helped me fresh-water flush the dinghy motor.
Jeff hoisted me up the mast in the bosun's chair so I could clean the backstay.
Finished reloading all the bins back into the lazarette.
Lashed the dinghy to the deck.
Ran extension cord into the boat to install dehumidifier.
Laundry.
Installed forward shade cover above deck.
Organized.
Cleaned galley.
Installed aft shade cover above deck.
Final preparations before leaving boat.
This list probably doesn't include all the boat projects, there were lots of other little ones that consumed time. And I'd like to point out that this is all being done in fairly hot weather. Let's face it, life on a sailboat is mostly frustratingly hard work. Equipment in a marine environment is just always breaking. And every project takes way longer than expected. But it wasn't all work. I did get in several beach walks and dinners with friends as they returned to the area to put their boats away for the season.
In mid-June I took my usual flight back to Tijuana and crossed the border to San Diego. The next morning I drove to Tom and Helen's house to pick up my life raft. (They had kindly brought it up from Mexico in their truck.) Then I drove to Marina Del Rey to spend the evening with David and Susan Rose. (David plans to join me on the crossing to the Marquesas.) I joined in their regular Wednesday night trivia night, which was a lot more fun than I had expected even though I may have known only one answer. The next day I drove up to Santa Cruz and stayed with my friends Walter and Glenn and their kids Will and Kate. They have a separate apartment that proved very comfortable for me. The day after I arrived, I drove to Alameda to deliver my life raft to be repacked and recertified, which has to be done every three years. Sal, the owner of the business, inflated the raft and walked through all the parts with me. When you examine your own life raft, your main thought is hoping you never have to see inside of it in the conditions it's designed for. I then left it there and went to see my friend Terry Chan. We chatted and ate all afternoon and I drove back to Santa Cruz that evening.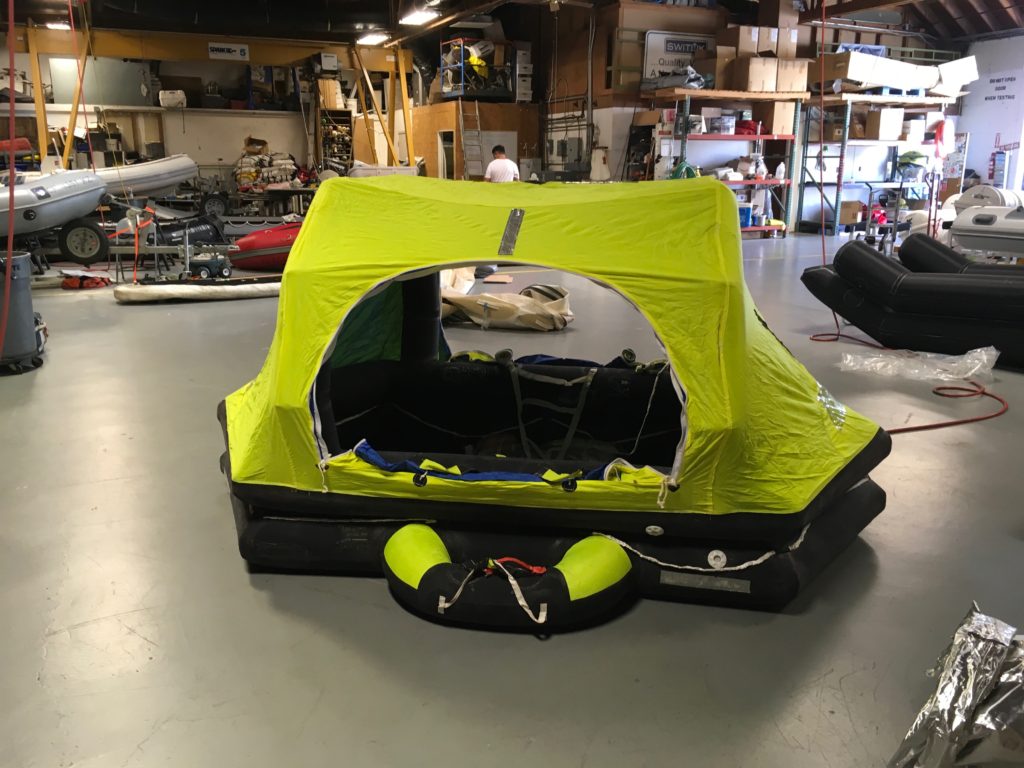 The next day, my friend Haller and I hiked about seven miles in Nisene Marks Park. It was gorgeous. The fog engulfed the forest and made it feel magical as we walked on soft paths of redwood detritus under lush green branches and ferns.
I was in Santa Cruz to report to jury duty, which I did by calling in each evening. As it turns out, I was excused each day. Since I never knew whether I would be free each day, I couldn't make plans with friends. But I did join my friends Jim and Linda to visit the harbor, and we got a chance to visit with my friend Pete on Mazu. I also spent time with one of my boating mentors, Matthew, who gave me splicing lessons for dyneema rope. I also ran into Anne from Redwood Coast II at West Marine but she was working, so I'll have to wait for my next visit to catch up with her. Finally I retrieved my life raft and headed south.
I returned to San Diego in time for my niece Teela's baby shower. She and her husband were visiting for the weekend, along with lots of family members, including my grandniece (14 months) and grandnephew (10 months). Very fun.
Once back in San Diego, I've settled into a bit of a routine. I've been hiking almost each day up Cowles Mountain and then spending most of the rest of the day studying for my ham radio license exams. I'm going to take both the technician test and the general test on the same day, in about a week. I took one day off from studying to take a first aid and CPR class with my niece. I've been able to spend time with my mother and my sisters' families, and visit with Tom and Helen from Catatude and Jan and Alan from Kemo Sabe.
Next on the agenda is a quick trip back to Puerto Vallarta in a couple of days to take some measurements and photos that were lost when my phone died without being backed up. I'll fly in, stay the night, work on the boat the next day and then fly back that night.
As soon as I complete my ham test, I'll begin a week-long course on diesel engines, followed by a two-week course to prepare for a captain's license, followed by a week-long course on outboard engines.
When I'm not in classes, I'll be studying charts and weather patterns to plan for the trip to the South Pacific.